Sales manager of Saigon Petro Company Tran Minh Ha believes that marketing needs to be boosted about the E5 gasoline with ethanol to encourage consumption.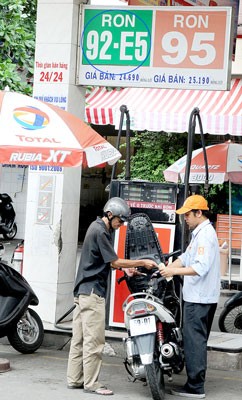 Price for a liter of the E5 is the same as A92 gasoline (Photo: SGGP)
Price for a liter of the E5 is the same as A92 gasoline, said Ha.
Vietnam National Oil and Gas Group (PVN) fears that customers will hesitate to fill gasoline E5 because they do not understand the benefits of it.
Relevant agencies should market to consumers about gasoline E5 before it becomes available in Quang Ngai, Ha Noi, Hai Phong, Da Nang, Ba Ria-Vung Tau, HCMC and Can Tho from December 1, said Nguyen Xuan Thuy, director of the Department of Industry and Trade in Quang Ngai Province.
The blend will be used nationwide starting Dec. 1, 2015.
Quang Ngai Province, the pioneer for the distribution of the blend, will supply the stations with the fuel starting June 1.
The country has seven ethanol production plants generating 535 million liters per year, according to the Ministry of Industry and Trade. This is enough to create blends of E5 and E10 gasoline in 2014.
The plants are able to produce 8.35 million tons of gasoline E5 or 4.17 million tons of gasoline E10 at full operation. This is sufficient for nationwide consumption.
Additional plants are under construction to produce more ethanol.
Petrol Vietnam provided only 22,000 cubic meters of gasoline E5 in the market in the last few years. This number is accounted for only 1.1 percent of an ethanol plant capacity.
Three out of 10 petrol wholesale companies have so far sold the blend at 170 out 12,000 stations in the country. Stations with the blend include PV Oil, Petec, and Saigon Petro.
Consumption of the blend is not as popular as expected in 2007 when it was released into the market.