Many mechanical enterprises in Ho Chi Minh City have reached some supporting agreements for cooperation and investment in Can Tho City's market.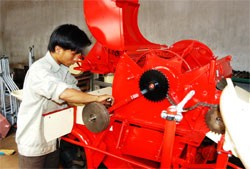 The machine, made by Vinappro Company, is used in the Mekong Delta to cut rice ears and pluck off the grains (Photo: Thai Bang)
The Saigon Automobile Engineering Co (SAMCO) will increase threefold its shares in the Can Tho Automobile Mechanics Joint-Stock Company, and buy holdings in other mechanical projects, including shipbuilding.
The Hung Vuong Refrigerant Electrical Mechanics Co., Ltd will invest in or go into joint venture with Can Tho City to manufacture, maintain and repair and overhaul refrigeration equipment.
In addition, many companies have promised to broaden their mechanical market in Can Tho City and the Mekong Delta.
Reportedly, high quality products of mechanical enterprises in Ho Chi Minh City were previously not very popular in the Mekong Delta.
Plus, manufacturers in the Mekong Delta used to spend much money on importing machines from developed countries.