Several farmers from the Mekong Delta province of Hau Giang have reported an average 200-ton per hectare yield of sugarcane – a nationwide first.
Whereas others in the area have produced an average yield of 60-70 tons per hectare, farmers from Hiep Hung Commune, Phung Hiep District say they are growing rich off their harvest.
Commune resident Nguyen Dinh Tuong was ecstatic after harvesting 130 tons of sugarcane, sold at VND830 per kilogram for a profit of more than VND50 million, the most Tuong has ever earned.
Farmer Nguyen Van Ben said his profits had doubled over last year.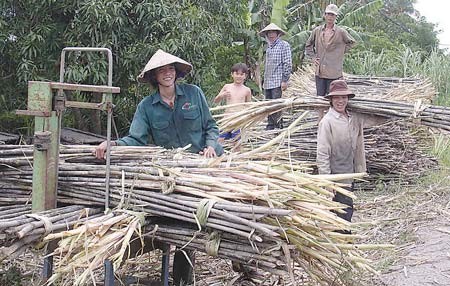 Sugarcane farmers in Hiep Hung Commune, Phung Hiep District in the Mekong Delta province of Hau Giang. Thanks to new planting techniques, locals have seen a surge in profits. (Photo: SGGP)
Although he hasn't harvested his crop yet, resident Truong Van Hien believes his farm will produce 220 tons of sugarcane and make a profit of around VND100 million.
On average, commune residents report they are earning around VND60-80 million per hectare of sugarcane, the most the area has ever received.
Sustainable-growth model to thank
Farmer Truong Van Hien said before 2002, sugarcane productivity in Hiep Hung Commune was low compared to other areas. At that time, farmers lacked knowledge about how to make the most of their crops, planting sugarcane trees too close together, planting low-yield varieties, and leaving them open to attack by pestilent insects.
Hien won a contest organized by the Can Tho Sugar Company (Casuco) which instructed Hau Giang residents how to plant crops more effectively and yield better results. Casuco engineers taught farmers to use new high-yield seed varieties and organized experience-sharing seminars.
A sugar cane club was also formed by residents. Many club members soon began reaching yields of 170 tons of sugarcane per hectare, and the numbers have been growing ever since.
Even Casuco employees were surprised by the results. Together with local authorities, the sugar company established the first 200-ton Sugarcane Club with nearly 60 members.
Casuco has also provided fertilizer, new seed varieties, and has taken farmers on research trips to gain more experience.
Nguyen Thanh Long, director of Casuco, said the club has improved farmers' awareness about how to produce successful crops and has encouraged them to continue learning.
The sugar company also encourages farmers to share their knowledge with others. By cooperating with each other, sustainable farming practices are more efficient and produce better crops, added Long.