The Mekong Delta region has seen a bumper winter-spring harvest with high prices, while farms in Northern Central provinces have been waterlogged due to the bad weather.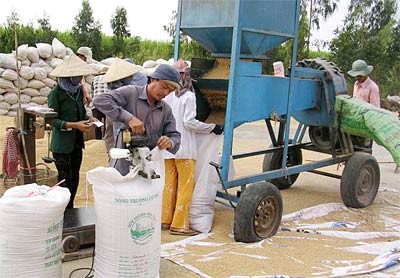 Farmers in the Mekong Delta husk rice (Photo: SGGP)
Farmers in Dong Thap, An Giang, Vinh Long, Ben Tre, Kien Giang, Hau Giang and Bac Lieu provinces have begun to harvest the early winter-spring rice, which have a productivity of 6 to 7.5 tons per hectare.
 
Nguyen Van Nam, a rice trader from Hau Giang Province's Chau Thanh District, said that high quality newly-harvested rice is currently trading at VND5,200-5,400 per kilogram, and dried rice is being sold at VND5,800-6,000 per kilogram, an increase of VND800-1,000 per kilogram as compared with last year.
 
High-quality rice sold for VND7,700-7,800 per kilogram at Cai Rang wholesale rice market in Can Tho City on January 16. The price was VND1,000 per kilogram higher, as compared with 2010.
 
Farmer Tran Van Tam, from An Nong Commune in An Giang Province's Tinh Bien District said, "I have just yielded 1.2 hectares of early winter-spring rice. I have sold the rice at VND5,400 per kilogram and earned a profit of nearly VND30 million (US$1,500)."
 
Meanwhile, many farms in Northern Central provinces have been waterlogged due to 'king tides' and heavy downpours of rain.
 
As many as 1,500 hectares of paddy fields in Phu Loc District, Thu Thien-Hue Province, have been waterlogged, with over 140 hectares submerged deeply under water.
 
Farmer Nguyen Van Hoa from Gio Phong Commune in Quang Tri Province's Gio Ling District said his 2,500-square-meter farm has been inundated with water due to heavy rain from January 4 to January 9.