Though salt makers in Mekong Delta have a bumper crop this year, salt price has dropped to VND300 per kilogram, the lowest level in the past several years, with hundreds of thousands of tons of salt in stock. Seeking outlets for salt product is a pressing issue, causing worry to provincial authorities and the agricultural sector.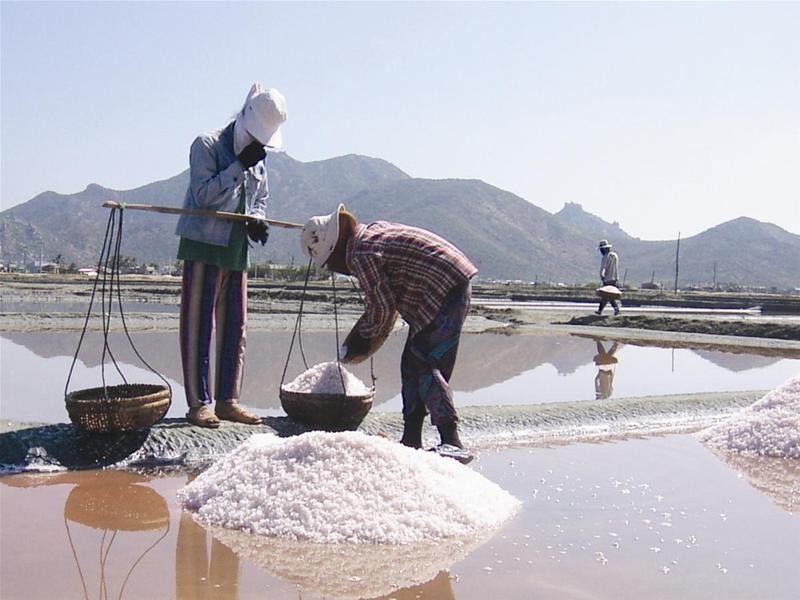 Farmers harvest salt in the Mekong province of Bac Lieu Province (File photo)
The precise reason for the vast quantities of unsold salt are not clear, however, there some are of the opinion that the main reason of the fall in domestic salt has been caused by imports that government has allowed.
This year, salt farmers have a bumper crop because of the sustained dry, sunny weather, making for higher production.
Salt producers in Bac Lieu Province are worried about huge losses because of falling prices and no buyers.
Tran Thi Ngan, a farmer in the Long Dien Tay commune of Dong Hai District's Bac Lieu Province, said the price for black salt is VND300 per kilogram, VND500 per kilogram for white salt, but nonetheless, nobody is buying.
Her family invested VND150 million (US$7,900) for five hectares of salt production, but they are facing a huge losses.
Binh Dai and Ba Tri districts of Ben Tre Province face similar situations.
According to deputy chairman of Ba Tri District's Bao Thanh Ward People's Committee, Ngo Van Cao, many dealers came to buy salt when farmers harvested salt crop in the past several years but this year, number of dealers decreased sharply, and are now down to none.
According to a report from Dong Hai District's Department of Agriculture and Rural Development, total salt production for the year is estimated at over 183,000 tons, however, since the beginning of the year 33,000 tons of salt have been sold, leaving 150,000 tons in stock.
Salt producers at Ba Tri District just sold 5 percent their total production. Farmers are having a difficult time protecting their product from the rain and humidity.
To deal the situation, Nguyen Thanh Be, deputy chairman of Bac Lieu District People's Committee said farmers will be allowed to borrow money (VND50,000 per ton) to buy materials to preserve their salt stock.
In addition, the province will ask banks to extend their time limits for payment of salt producers' claims as well as urging producers not to sell salt at low prices.
The provinces have to wait for government policy because they cannot raise salt prices and seek outlets for salt product, said Be.
Even though most salt-producing provinces have salt-processing companies, but the companies increased their usage of imported salt volume due to falling global prices, instead buying salt from local farmers.
The Ministry of Industry and Trade has allowed local companies to import 260,000 tons of salt in 2010, 180,000 tons of which will be used by manufacturers, while consumers will use the remainder.