Many farmers in the Mekong Delta are lacking capital to buy machines, equipment and materials for production, though the Government's subsidized interest rates have been available for some months.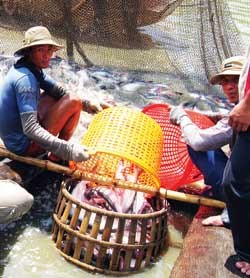 Tra fish breeders are failing to access preferential interest rates loans (Photo: SGGP)
Farmer Huynh Van Han from Phong Dien District, Can Tho City, said that he recently went to the Bank of Agriculture and Rural Development to ask for a loan to buy a combine harvester, but he could not due to an earlier mortgage.
He had mortgaged his land before the loan policy was put into operation, but has been unable to pay off the old loan and is unable to access the new interest loans because of it.
Nguyen Van Khanh from Chau Thanh District, Hau Giang Province, is also in the same situation and needs to borrow capital to install a system of watering machines, and buy fertilizer and pesticide for five hectares of Nam Roi grapefruit.
Another farmer, Nguyen Van Hieu from O Mon District of Can Tho, expressed another concern that he came to bank to ask about procedures to borrow to buy a harvester, however, the bank staff said that the conditions for lending meant he had to buy machines manufactured in Vietnam.
As such, Mr Hieu has not yet decided if he should borrow. Moreover, he was afraid that he could not repay the bank within two years, he said.
Meanwhile, none of the 168 cooperatives in Hau Giang Province have received any Government backed loans, as they have met many difficulties from the Bank for Investment and Development of Vietnam, Nguyen Nhu Quan, from the Hau Giang Cooperative Alliance, said.
Catfish and prawn breeders can also not access the stimulus package because they have not repaid old loans.
Large demand, little accessed
By the end of June, Can Tho farmers borrowed just VND130 million (US$7,000) with preferential interest rates, which is not even enough to buy a harvester.
Ha Hong Ngoc, director of the branch of the State Bank in Can Tho City, explained that one of reasons putting off farmers applying for loans has been the need to buy Vietnam made machinery.

They also meet difficulties in getting the confirmation they need from chairmen of communes' People's Committees to complete the procedures to borrow capital, he added.
Le Vinh Tan, deputy chairman of Dong Thap People's Committee, said that the number of catfish breeders enjoying benefits from the stimulus package is modest, as they do not have property to mortgage.
Fish breeders are also struggling and unable to repay old bank loans owing to recent losses, Nguyen Van Hieu, deputy chairman of Ben Tre Province People's Committee, said.
The Government should set up a policy to let them access new loans to help produce more fish.
Local authorities should also check the number of machines that their provinces need for suitable investment and prevent money being wasted, he added.