Foreign fruits, available everywhere from sidewalk stalls to supermarket shelves, have been flooding the Vietnamese market since the beginning of this month, especially in the Mekong Delta area. Thai produce, in particular, has been monopolizing the market of late.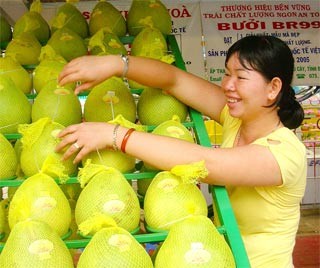 Foreign importers show a great deal of interest in Vietnamese Nam Roi grapefruit
Even though local fruit farmers have reduced their prices by up to VND10,000 per kg recently, Mangosteen, langsat and durian from Thailand continue to undercut them.
 
Some merchants said that Thai fruits sell better because they taste and look better.
 
While most foreign fruit is coming into the Mekong Delta through China, Thai produce enters the region through Cambodia.
 
The Delta region is the country's fruit basket with fruit farmers there cultivating small orchards on 0.5 to 1 hectare plots.
 
Professor Vo Tong Xuan, Dean of the University of An Giang, said that after Viet Nam's accession into the World Trade Organization, agricultural production in the Mekong Delta has faced many difficulties and has not gotten used to the new business environment yet.
 
Overhead costs for small orchard operations are high, and many of the terms found in co-op regulations prevent farmers from joining them. Vietnamese agricultural products often do not sell as well as foreign produce because they do not have a trademark and do not enjoy international prestige, he added.
 
Pham Ngoc Lieu, Deputy Director of the Southern Fruit Research Institute said, "Cost and output are two important factors affecting the ability of Delta-grown fruits to compete with their foreign counterparts."
 
Many experts have said that in order to make local produce more competitive, the Government should persuade farmers to cultivate regional specialty crops.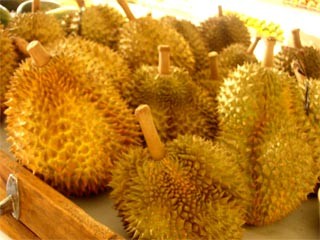 Ben Tre Province is famous for Chin Hoa durian (Photo: Thuy Hang)
For example, Tien Giang's specialties are Cai Be King oranges, Hoa Loc sweet mangos, pineapples and star fruits, while  Ben Tre is famous for Chin Hoa durian, Da Xanh (green skinned) grapefruit, and mangosteens.
 
While foreign importers have shown a great deal of interest in many of these products, Vietnamese exporters couldn't acquire the volumes that potential contracts would require.
 
It is thought by many that fruit production has to be reorganized by region. To start with, plots with a minimum area of 1,000 hectares should specialize in the cultivation of one type of fruit.
 
In order to develop such areas, the Government should subsidize the industry by developing new strains of trees, offering loans for upgrading orchards, assisting farmers to establish cooperatives and providing them with market information and management training.
 
Doctor Nguyen Minh Chau, Director of the Southern Fruit Research Institute, suggested that the Mekong Delta needs to establish a steering board to help develop the fruit industry there by providing technical assistance to cooperatives and helping local farmers develop their own special fruits.
 
According to Doctor Vo Mai, president of the Viet Nam Fruit Farmers' Association, in order for Mekong Delta fruits to stand their ground on the international market, fruit growing has to be integrated processing more closely with local and overseas distribution.