Thank to some glorious weather Mekong Delta provinces are all set for a bumper crop of fruits and vegetables ahead of Tet (the lunar New Year) next month.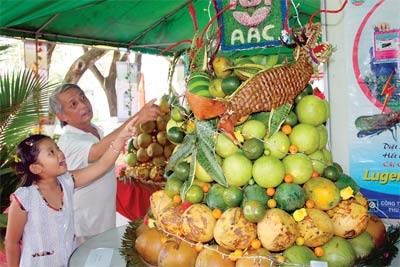 An artisan arranges a display of fruits, a traditional practice during Tet in the Mekong Delta. Farmers in the delta are looking forward to a bumper harvest of fruits and vegetables ahead of Tet next month (Photo: SGGP)
Traders are making a beeline for Tan Thanh, Tan Phuoc, and Long Hau Communes in Dong Thap Province's Lai Vung District where "hong" mandarins are grown to buy the fruit for selling during the New Year.
 
Tran Van Ut, owner of an orchard in Long Hau, said: "There is still over a month to go for Tet but mandarin prices are already soaring. Traders have left deposits, offering VND12,000-13,000 a kilogram for top quality mandarins and VND9,000-11,000 for second grade fruits. 'Duong' mandarin (Citrus reticulata Blanco) is up to VND20,000, VND3,000-5,000 more than last year."
 
Pham Van Lam, also of Long Hau, said: "One thousand square meters of mandarin yields around nine tons worth over VND100 million (or VND1 billion per hectare) for a net profit of VND80 million."
 
Mr. Lam is a veteran farmer who has regularly made profits from growing mandarin for the last 15 years.
 
Cho Moi Island in An Giang Province, which has the largest area under vegetables in the delta, is also experiencing a bumper year.
 
Tran Van Minh, a farmer in the island's Kien An commune, said he has sold 3,000 square meters of vegetables, earning a profit of over VND70 million. "In rural areas, with such profits, farmers can enjoy a great Tet holiday," a jubilant Minh added.
 
Trinh Kim Thinh, vice chairman of the Hoi An Commune People's Committee, said local farmers have planted various vegetables on 785 hectares, and it is now the peak harvest season.
 
Now, 100 kilograms of pickled scallion heads, a traditional Tet food, fetches VND300,000, a year-on-year increase of over 30 percent, he added.
 
An official from the Cho Moi District People's Committee said the prices agreed for vegetables to be harvested just ahead of Tet are two or three times higher than on normal days.
 
Nam Roi and green-peel grapefruit farmers in Vinh Long and Hau Giang Provinces and watermelon farmers in Long An, Soc Trang, and Bac Lieu also expect bumper crops.
 
Households in Tran Hoi Commune in Ca Mau Province's Tran Van Thoi District began to press bananas and dry them in early January for sale during Tet.
 
Dried banana and banana jams and candies are traditional sweets made in the delta during Tet.
 
An commune official said local farmers supply 500 tons of banana products during Tet every year. At the current price of VND8,000-9,000 for a kilogram of dried banana, a household can earn up to tens of millions of dong in the dry season this year.
 
Le Thi Phuong in the commune's 10C Hamlet said: "My family has earned a profit of VND18-20 million in the dry season for more than 10 years.
 
Other products in demand during Tet, like dried shrimp and squid and fish and seafood paste, have also seen prices and demand go up.
 
Le Minh Tan, owner of a dried-shrimp unit in Rach Goc Commune, Ca Mau Province's Ngoc Hien District, said his products now sell for VND250,000 to 500,000 a kilogram depending on quality and variety.