In the Mekong Delta, it has been a bumper summer-fall crop of rice. However, farmers are unhappy because rice is priced low or not sold.
 
Rice down in price, up in stock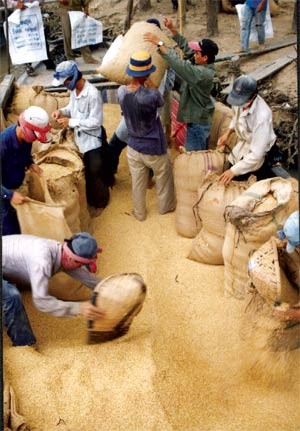 Mekong Delta farmers have lots of unhusked rice in stock
Though unhusked rice is sold at VND4,100 to 4,200 per kilogram in Hau Giang Province, VND1,500/kg lower than three or four months ago, merchandisers are not interested in it.
 
According to scientists' calculation, farmers must reap a profit of over 40 percent to cover their living expenses, while they are making only 14-15 percent this crop.
 
Until Tuesday, Hau Giang farmers harvested 400,000 tons of unhusked rice, an increase of 22,500 tons over last year, and they have 300,000 tons in stock. Farmers can store unhusked rice for only 15-30 days.
 
Duong Van Chau, a farmer in Tra Vinh Province, said the unhusked rice price has dropped from VND5,500 to VND4,900 per kilogram. Farmers won't make profit if they reap five tons per hectare and sell at VND5,000/kg for they have to spend VND26 million per hectare on farming costs.
 
"The government should subsidize unhusked rice," he added.
 
Farmer Nguyen Van Dong said stagnant sales might have a bad impact on 70 percent of farmers.
 
"The government needs to take measures to help farmers deal with the situation," Mr. Dong said.
 
Why don't exporters buy unhusked rice?
 
Le Viet Hai, director of Mekong Can Tho Company, said at present, export price of Vietnamese rice is falling. Except for jasmine rice, other kinds of Vietnamese rice sell for less than US$600 per ton.
 
Exporters in the Mekong Delta have lots of rice in stock too, which they bought at high price and paid high interest for borrowing loans from banks to buy unhusked rice from farmers.
 
Rice exporters don't want to borrow money at the current high interest rate of 1.75 percent/month to buy unhusked rice to store for months.
 
Mr. Hai said exporters will buy unhusked rice only when they export all stock and have new export contracts.
 
Exporters complained that when global rice prices rose because of increasing rice demand a few months ago and the country had abundant supplies, the government stopped exports. Meanwhile, Thailand took advantages of that time to export a large quantity of rice at high prices.
 
They said the government should have a proper management policy on rice export and know how much rice the country has to boost sales at the right time with good prices. It's impossible to call for exporters to boost export when importers don't demand it, especially like this time.
 
Dr. Le Van Banh, director of the Mekong Delta Rice Research Institute, said the Ministry of Natural Resources and Environment who manages farming land, the Ministry of Agriculture and Rural Development who is in charge of cultivation technique and anti-epidemic diseases, and the Ministry of Industry and Trade who regulates exporting rice should work together well to prepare a proper plan for effective production and export.
 
The role and capacity of forecasting export markets are not less important and need to be focused on, he added.
 
Taxing rice exports is essential. However, it should be considered in the current context. If exporters are taxed, they will buy unhusked rice at lower prices. Imperceptibly, this duty is imposed on farmers, Dr. Banh concluded.

Reduced demand lowers price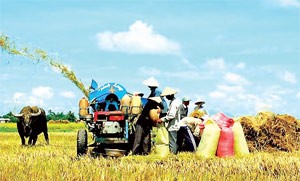 Farmers are harvesting rice on the field in the Mekong Delta
In related news, Industry and Trade Minister Nguyen Thanh Bien said recently the export rice price has been up and down wildly. At one point, it soared to US$1,200 per ton. However, it's not a real value, but just a virtual hike.
 
Thus, he added, economic efficiency shouldn't be calculated based on price changes that happened during the last days or weeks.
 
The export rice price has changed because the world demand has changed due to natural disasters. Therefore, it shouldn't be said that the poor management in rice export has made farmers incur losses, he said.
 
Mr. Bien explained the local rice price is presently down because the current export price is low and the price of summer-fall rice is always lower than winter-spring one for it is moist and needs to be dried.
 
At present, the two ministries are seeking measures to purchase farmers' rice as well as drawing up a plan for export, he said.
 
The prime minister has ordered the export 3.5 million tons of rice by September and exporters have already signed contracts for it, he added.