Many aquatic product processing factories have been being built in the Mekong Delta. However this has triggered concerns about shortages of material input for export processing among local factories.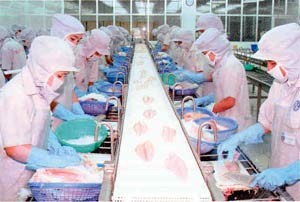 Aquatic products are processed in a factory
The southern province of An Giang is leading the race in building aquatic product processing factories with 26 factories in operation, producing 220,000 tons of products of tra, basa catfish per year.

Moreover, eight more factories will be put into operation this year, making An Giang the province with the most tra, basa catfish processing factories in the country. 

Director of the An Giang Province's Aquatic Resource Department Nguyen Van Thanh said the province is hoping to reach a total export turnover of US$400-430 million from aquatic products, an increase of 30 percent compared to last year.

The neighboring Dong Thap Province is also calling for more investment to build five to seven new factories with a total capacity of 100,000 tons of aquatic products per year.

According to the province's Department of Agriculture and Rural Development, aquatic products are considered one of its key export goods which are expected to yield US$200 million this year.

The same situation can also be seen in the southernmost province of Ca Mau and other neighboring provinces where quite a number of aquatic product processing factories are under construction.

The increasing number of processing factories in the Mekong Delta's provinces is not a surprising move as the country's exports of aquatic products has achieved a high growth rate of 12 percent to reach US$3.75 billion last year.

However, many observers have expressed their concerns about the abrupt increase in the number of factories as it will push up the demand for export processing materials, which many provinces already lack.

For the last few years there has been a shortage of material input for export processing due to the low output of aquatic products. This has caused quite a lot of damage to aquatic product manufacturers and exporters. It has forced many factories to use only 50 to 60 percent of their production capacity or to import materials from outside the country to continue their production.

Therefore, Director Thanh said the province's authorities have asked local aquatic product processors to boost their cooperation with fish breeders for the sake of higher and better aquatic product output.

Deputy Director of the Ca Mau Province's Department of Aquatic Resources Diep Thanh Hai suggested that local officials and entrepreneurs should join hands in finding effective measures to maximize production and promote the rights of both fish breeders and processing factories.