The Mekong Delta needs to focus on maintaining and widening the Tra fish market, as well as keep a track of the market situation, said the Minister of Agriculture and Rural Development, Cao Duc Phat, at a meeting with representatives from  Mekong Delta provinces August 21.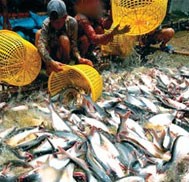 Farmers harvest Tra fish in Can Tho Province, Mekong Delta.
According to the Ministry of Agriculture and Rural Development, the total Tra breeding area in the Mekong Delta since the beginning of the year is currently 5,154 hectares, an increase of 579 hectares compared with the same period last year.
As of mid-August, Mekong Delta farmers harvested 457,000 tons of Tra fish.
The price for Tra fish is from VND14,500 – 17,000 per kilogram, an increase of VND300 per kilogram compared with the same period last year. However, breeders are still losing as the cost of producing Tra fish is VND14,000 – 17,000 per kilogram.
Many small sized fish breeders also do not have contracts so it is difficult for them to sell fish.
At the meeting, farmers, co-operatives and leaders from Mekong Delta provinces said they are facing difficulties due to the low price of Tra fish and the negligible profit margins.
In addition, it is still difficult for breeders, as many struggles to access subsidized loans, the price of food has risen to a high level and the quality of fish spawn is poor.
The chairman of Vietnam Association of Seafood Exporters and Producers, Nguyen Huu Dung, said breeders should not have a pessimistic view of the Tra fish market and its future.
He forecasted that Tra fish output and export value this year will be equivalent to last year's, with rising demand from export markets, such as the U.S., Europe and South American.
Although the export of Tra fish has been affected by economic impacts on consumption, the situation has shown some positive signals.
Since the beginning of the year companies have exported 300,000 tons of Tra fish, a decrease of just 2.7 percent in volume and 3.6 percent of value compared to last year, said Mr. Dung.
Mr. Phat said Mekong Delta provinces should guide farmers to register Tra fish breeding areas and publish fish breeding techniques for farmers.
The ministry will strictly penalize any Tra fish exporters and processing companies that effect the produce's prestige, Mr. Phat added.
Mr Phat also asked provincial authorities to test the environmental quality of the Mekong River, then give information to other countries to show the quality of areas where Tra fish are cultivated.