Although the Mekong delta provinces are considered the main agricultural production base of Vietnam, there is little or no effort to protect the brand names of any of their popular produce.
Value of a brand name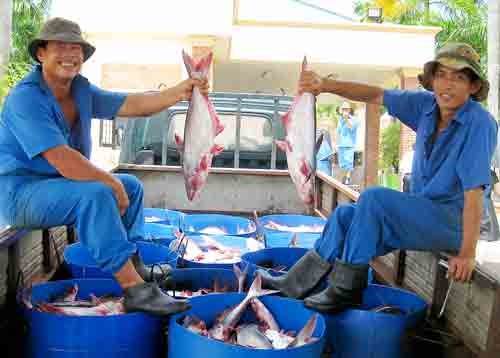 Vietnam is a leading tra fish exporter in the world, however, no customer knows of the origins of Vietnamese tra fish because foreign names are printed on the packaging (Photo: SGGP)
After news that the Viet Huong Trading Company of Hong Kong had applied for patent of the brand name 'Phu Quoc', a geographical location in Vietnam, for products which contained 'Phu Quoc' fish sauce ingredients, Nguyen Thi Tinh, chairwoman of the Phu Quoc Fish Sauce Association convened a meeting to discuss how to deal with the matter.
The association has also asked related ministries and agencies to intervene and advise as to how to tackle with the situation.
'Phu Quoc' fish sauce is well known domestically and internationally. The island district in the Mekong delta province of Kien Giang produces around 15-18 million litres of fish sauce per year, of which about 80 percent is consumed within the country while the remaining 20 percent is exported to EU, the US and some Asian countries.
The popular 'Phu Quoc' fish sauce is in short supply, with many businesses in and outside Vietnam selling the fish sauce that is not actually made in the Phu Quoc island district. The association has now filed for the protection of the geographical name 'Phu Quoc' at the National Office of Intellectual Property of Vietnam as a trademark name of country of origin and later to be patented in other countries in the world.
Building a brand name can reap huge benefits, as in the case of the Lo Ren star apple from Tien Giang Province. Before 2006 and before it was branded, the Lo Ren star apple sold for VND20,000 per kilogram.
However, once the province registered its brand name and farmers applied Good Agricultural Practices or GAP, prices soared to VND50,000 a kilogram and the province is now unable to meet demands. Recently, Japanese enterprises signed a long-term contract to purchase the fruit.  Similarly, the Hoa Loc mango has gained popularity in the Japanese market as well as some South-East Asian countries after its brand name was registered.
Problems arising
Although economic experts had continually warned of Vietnam not taking adequate action in protecting its brand names of its popular products, the warning received little or no response from farmers and enterprises.

After news that a Chinese company had patented the Buon Ma Thuot coffee brand name in China for ten years, members of the Lo Ren star apple Cooperative in Tien Giang Province were worried, said Nguyen Van Ngan, head of the Cooperative.
Ngan added that farmers in the cooperatives had changed their production methods to suit GAP requirements but could not do much for protecting the brand name of the fruit in the world market as that would cost a lot of money which the cooperative could not afford.
According to Phan Nhut Ai, director of Department of Agriculture and Rural Development in the Mekong delta province of Vinh Long, exporters pay no attention to building a brand name. He affirmed that export companies should play an important role in guiding farmers to produce in accordance with international standards and protect the brand name of fruits that are popular.
Vietnam earns a lot of revenue from rice and seafood exports, with tiger shrimp and tra fish being the key contributors. Nevertheless, all products are named after foreign distributors or importers, said Nguyen Van Dao, director of Go Dang Aqua Product Company.
For instance, Vietnam tra fish is exported in large quantities; however, very few exporters use the Vietnamese brand name on the product package because Vietnamese exporters produce to meet orders they receive. Hence foreign names of distributors and importers are on packages and customers around the world know nothing about the origins of Vietnamese tra fish.