Farmers in some Mekong Delta provinces who have harvested their third rice crop of the year have earned profits of VND20-30 million per hectare.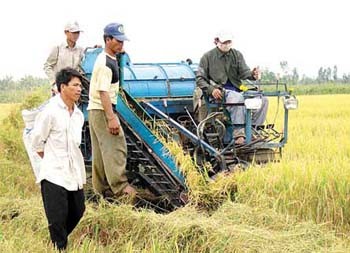 Farmers harvest rice in the Mekong Delta. The year's third rice crop has yielded a bumper harvest and with prices going up, farmers have made profits of VND20-30 million a hectare (Photo: SGGP)
They have been aided by fine weather which yielded a bumper harvest and high prices for the grain.
The An Giang Province Department of Agriculture and Rural Development also said that with few pests to damage this time, farmers harvested an average of 5-6 tons a hectare. The province has 92,000 hectares under rice.
Rice prices have risen by VND500-1,000 a kilogram since the beginning of November with traders paying VND5,500-6,000 at the farm.
In Soc Trang Province too farmers have benefited from a good crop and high prices.