While shrimp breeders have been enjoying profits, many households in the Mekong Delta who raise pigs, chickens, and ducks are in despair as prices have fallen drastically.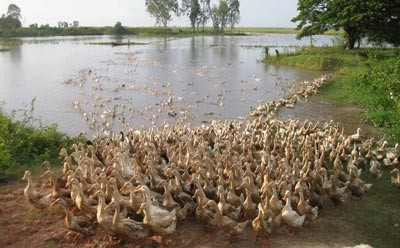 Animal husbandry in the Mekong Delta provinces faces unstable consumption.(Photo: SGGP)
Mr. Tu Sum, a farmer in Tan Hoi Trung Commune in Cao Lanh District of Dong Thap Province, complained that with the current price of pig he earns less than VND500,000 per quintal in four hard-working months.
According to him, pigs are usually raised four to five months before being sold to traders. The price of pigs now is at VND4.1 million per quintal while the cost for feed and medicine is more than VND3.5 million.
Looking at the herd of more than ten pigs which he will be able to sell in the next two months, Mr. Sum groaned that with such high price of feed, he will definitely suffer losses.
Nguyen Anh Vu, a vet from Tan Hoi Trung Commune, said that there were around 700 pigs which are ready for slaughter. However, with the current price of VND4-4.1 million per quintal, farmers only manage to recover their overheads.
Many farmers worry that if they do not sell their swine at this price, and the price drops further to VND3.6-3.7 million per quintal like previous months, they will lose their capital. As usual, when the flooding season comes, the price of pigs also declines.
Mr. Vu said that besides concerns about further drop in price, farmers barter away their pigs mainly because the price of feed is too high. In addition, their banks loans have reached due date so when the price of pig inches up, they sell their pigs right away.
In Tien Giang Province, there were nearly 562,000 pigs 'stuck' in pigsties because of low price. Nearly 254,000 pigs in Long An Province, and 195,000 pigs in Dong Thap Province were in the same situation.
However, not only pig farmers but chicken, duck, and fish farmers in the Mekong Delta provinces were also experiencing such difficulties.
It is important to find a way out for farmers, especially to help them to start a new herd to serve the upcoming Tet holiday season.
Le Minh Duc, Director of the Department of Agriculture and Rural Development in Long An Province, said that besides shrimps which have showed signs of recovery, pigs, fish, and chickens have been suffering low prices, unstable consumption, and raging diseases.
Mr. Duc said that until now agricultural production in general and husbandry in particular has still not built a solid foothold but remains unsteady and vulnerable. The fact that the price will fall when farmers get bumper crops, or vice versa, occurs continuously. It is rare to see bumper crops and high prices at the same time.
According to the Departments of Agriculture and Rural Development in the Mekong Delta, the key shortcomings of husbandry industry are small-scale production; breeding stock of poor quality; and farmers not paying sufficient attention to market information. 
Not to mention, veterinary technical infrastructure and management is still weak and not synchronized. Even the application of advanced technology in husbandry to improve product quality has not been given proper interest. Continual disease outbreaks have caused more difficulties for husbandry industry. As a result, several animal husbandry households, especially small ones, had to shut down because of loss and bankruptcy. Local authorities and relevant departments have struggled to help farmers to revive production but no positive signs have showed yet.
Mr. Duc said that disease outbreak easily arises from small-scale animal husbandry but is hard to control. In order to build modern large-scale animal husbandry units with tight control on input and output, husbandry industry should change and find a new direction to develop sustainably.