Provinces in the Mekong Delta have set a target to export 5.4 million tons of rice annually during the period 2012-2015, in line with instructions of the Ministry of Agriculture and Rural Development and the Vietnam Food Association.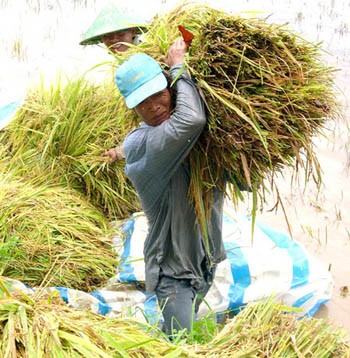 Harvesting rice in the Mekong Delta (Photo: SGGP)
A representative from the ministry said that rice from this region would mainly be exported to the Asian, African and Middle Eastern countries.
To meet this target, the Mekong Delta Provinces must improve rice quality and distinctively mark out the rice growing areas, working step by step in building a unique brand for export.
In addition, rice export companies in the Mekong Delta must also increase production to maintain both the traditional market and also the requirements of the new markets. More co-ordination between producers and consumers will help stabilize the price of rice for farmers.
Last year, the Mekong Delta provinces exported 6.2 million tons of rice, earning US$3.1 billion, an increase of 11 percent in volume and 23 percent in value over the previous year.