Many rice farmers in the Mekong Delta are facing difficulties as they find it hard to sell rice harvested from the winter-spring 2011-2012 crop at expected prices.
Rice farmers in Bac Lieu, Soc Trang, Tra Vinh, Vinh Long, Hau Giang and some other Mekong provinces have been facing a price dilemma in recent weeks. Some have sold at low prices while others have decided to store the commodity, waiting for higher prices.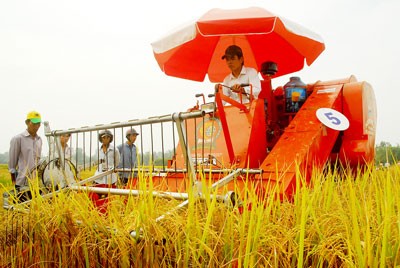 File photo shows rice harvest in the Mekong Delta
Rice stockpiles are now seen at many farmers' houses in Truong Tho and Nhi Truong communes in Cau Ngang District, Tra Vinh Province.
Farmer Nguyen Van Hai in Truong Tho says, "I've harvested more than five tons of IR 50404 rice and dried them already but traders offered to buy at VND5,300 per kilo. It's so low and I decided not to sell. Some other people here also stored the rice instead of selling but quite a few households have sold it to clear debts."
According to the agricultural departments in the Mekong Delta provinces, farmers have grown about one million hectares to 1.55 million hectares of rice in this crop, with the low-quality IR 50404 variety planted in many fields. In Dong Thap, Can Tho, Vinh Long, Tra Vinh and Hau Giang, this variety was grown in 30-60% of all fields.
Harvest from the current crop and stocks from the latest crop have together created a larger total stockpile. This means farmers face higher price risks.
The reason why the low-quality IR 50404 variety was used for a large number of rice fields this winter-spring crop is limited supply of high-quality varieties in the beginning of the crop. Those farmers who could not manage to buy high-quality varieties had to use the low-quality but high-yield variety as a replacement.
Another fact behind the replacement is growing this low-quality but high-yield rice has brought about success in previous crops. For example, the price of this rice in the 2011 fall-winter crop was just VND100-200 lower than prices of high-quality rice kinds.