The Mekong Delta should boost its investment in rice-drying technology in 2010, Deputy Minister of Agriculture and Rural Development Bui Ba Bong has said.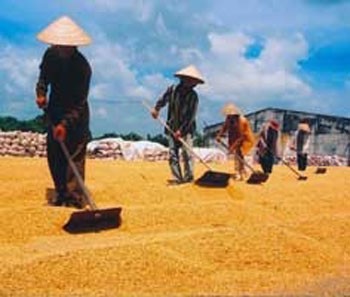 Vietnam's largest rice-producing area, the Mekong Delta, should invest more in rice-drying technology, said Deputy Minister of Agriculture and Rural Development Bui Ba Bong
Speaking at a conference held in Can Tho City January 22 to review rice production in 2009 and discuss plans for the delta in 2010, Mr. Bong said last year's production met with many difficulties including floods, unusual weather, and pestilent insects.
However, he said that it was also a successful production year with total output of around 21 millions tons, an increase of 12,000 tons over previous year.
The delta now has 3,193 combine harvesters and 4,243 other reaping machines, which enables 30 percent of rice-growing areas to be mechanically harvested.
The Mekong also has 7,000 rice-drying units which helped produce 25.5 percent of the last summer-autumn rice crop's yield.
However, Mr. Bong said the delta has not invested well in post-harvesting technologies related to drying, processing and preserving, which can greatly affect the quality of rice.
In addition, he forecast that in 2010, the delta's rice production would experience more difficulties due to drought and seawater penetration inland.
As a result, localities should pay more attention to building electric pumping stations and dredging canals, Mr. Bong said.
Dr. Le Van Banh, head of the Mekong Delta Rice Research Institute, said that if each local household bought its own rice dryer, it would be very costly and inefficient as most families produce just one hectare of rice each crop, which can be dried in a day.
Therefore, each commune should invest together in a drying system, he said.
The World Bank (WB) has launched a project titled "Enhancing the competitive ability in agriculture" and has carried out research related to rice production in An Giang Province, and to fruit trees in Tien Giang Province.
Through the project, each province will receive US$1 million from the WB to invest in infrastructure and post-harvesting technology, on the condition that farmers and businesses cooperate closely.