Consumers have turned their back on imported confectionary after dairy products and cookies imported from China and Malaysia were found to contain melamine, handing the market to domestic confectioners ahead of the Christmas--New Year holiday season next month.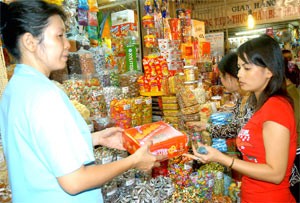 At Ben Thanh Market (Photo: SGGP)
Binh Tay market in District 6, once full of Chinese and Malaysian cookies, is now packed with local stuff. Only the odd confectionery from China can be seen.
 
Nguyen Thi Lien, a wholesaler at the market, said no one dares sell imported stuff and shops are mostly selling locally-made ones though they are slightly more expensive.
 
Duong Thi Quynh Trang, public relations director at Big C, said the French supermarket plans to sell mostly confectionery made by popular local names like Kinh Do, Bibica, and Hai Ha during the holidays.
 
Nguyen Thi Tuyet Hong, director of CoopMart Cong Quynh, said Vietnamese products make up 85 percent of her supermarket's stocks, and their sales have jumped since last month.
 
Due to the falling demand, companies have cut their imports by 50 percent.
 
Local firms are capitalizing -- Bien Hoa Confectionery JS Company (Bibica) would make 450 tons of sweets for this holiday season, 20 percent higher than last year, Phan Van Thien, deputy general director, said.
 
It would offer 20 new varieties of candies, chocolates, and biscuits priced at VND25,000-110,000 a box, he added.
 
Kinh Do Company said it plans to increase confectionery production by 20-30 percent compared to last year and focus on high-quality stuff.
 
But producers have yet to talk about prices, making consumers wonder if they are going to be reasonable.