Up to 100 orders for ROSA buses, a Mercedes-Benz's prestige commercial vehicle FUSO brand, have been made shortly after the company introduced the model in Vietnam.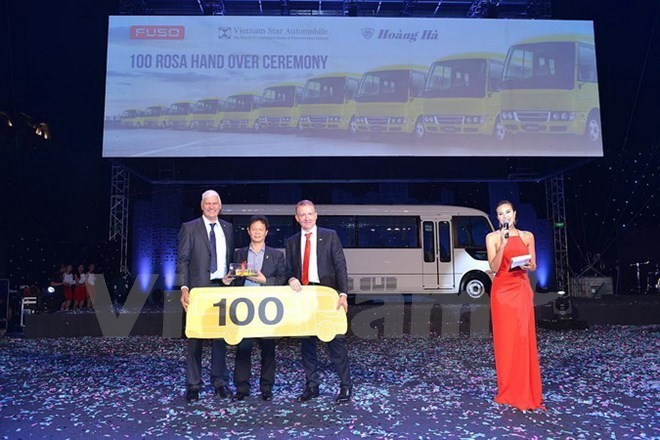 100 orders for ROSA buses have been made shortly after Mercedes-Benz introduced the model in Vietnam (Photo: VNA)
The FUSO brand's four ROSA models, including Business, Exclusive, Executive, and School, ranging from 1.249 billion VND (roughly 56,000 USD) to 1.399 billion VND (roughly 63,000 USD), have been for the first time assembled outside Japan.
According to General Director of Mercedes-Bez Vietnam Michael Behrens, FUSO invested nearly 10 million USD to build a factory specialising in assembling ROSA buses in Ho Chi Minh City's Cu Chi district.
The factory has a capacity of 1,000 units a year with local content accounting for 15 percent. Buses produced in Vietnam have the same quality as those manufactured in other Asian countries, he added.
The ROSA buses completed a 20,000-kilometre country long journey to verify their quality before being introduced to customers.
Besides advanced turbocharged engine and facilities, the model has a specious interior space and easy to move in the country's streets.