Almost 150 agricultural producers and suppliers of Dong Nai joined a conference held by German wholesaler Metro Cash & Carry in the southern province Aug. 12 to introduce Metro's buying criteria, product quality, food safety and hygiene requirements.
The conference aimed to help the producers and suppliers learn about the company's buying system, including its quality assurance practices, to find more business opportunities with Metro, said William Savage, Metro Vietnam Buying director.
"We are convinced that Dong Nai Province can become a crucial food supplier for Metro Cash & Carry," he added.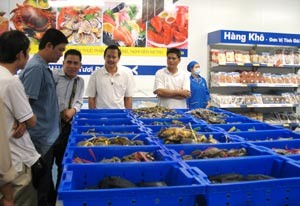 Shoppers look at Vietnamese crabs at Metro Bien Hoa outlet in Dong Nai, a province Metro says can become a vital food supplier for the wholesaler (Photo: Tuong Thuy)
Metro opened its ninth wholesale center in Vietnam, located in Dong Nai's Bien Hoa City in July with an investment of 20 million euros. The wholesaler says about 95% or so of goods at the center are made in Vietnam.
Dong Nai, which borders Ho Chi Minh City to the south and the upland province of Lam Dong to the northeast, is an agricultural and industrial province. Metro buys lots of farm produce from the two provinces.
During the conference, Dong Nai agricultural producers and suppliers also learned about the operations of a Metro fruit and vegetable buying center in Lam Dong.