METRO Cash & Carry Vietnam keeps spreading the message of environment protection after one year's introduction of its reusable shopping bags to replace plastic bags at the cashier.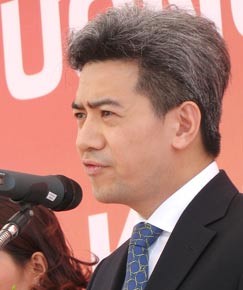 METRO Vietnam operations director Laurent Levan speaks about his company's reusable bag program Thursday (Photo: Tuong Thuy)
The German wholesaler held a ceremony at the METRO An Phu outlet in Ho Chi Minh City on Thursday to celebrate one year of its reusable bag environmental initiative.
"We would like to thank our professional customers, our suppliers and our colleagues for supporting and cooperating with us to successfully develop the program," Laurent Levan, operations director of the company said in his speech in the ceremony.
During the event, METRO representatives and guests cut the ribbon for the show of a huge reusable bag at An Phu. The bag – almost 11 meters high, 13m long and 5.5m wide – is displayed until December 10 to raise public awareness of use of reusable shopping bags.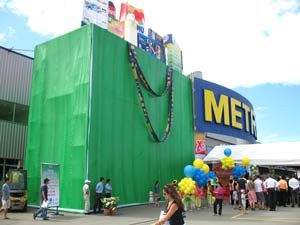 A huge reusable shopping bag – 11 meters high, 13m long and 5.5m wide – on display at METRO An Phu until December 10 (Photo: Tuong Thuy)
METRO first introduced reusable bags to customers in September 2007, giving them out for free. As from November 1, 2007, all METRO customers have used its reusable bags that do not need to be discarded after each use.
Experts estimate that 500 billion to 1 trillion plastic bags are consumed and discarded annually worldwide—more than a million per minute. Plastic bags end up as litter that fouls the landscape, and kill thousands of marine mammals every year that mistake the floating bags for food.