German multinational wholesaler Metro Cash and Carry on July 9 opened its first store in the southern province of Dong Nai, a fast developing industrial area of Vietnam, as its ninth wholesale center in the country.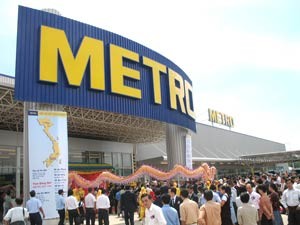 Metro Bien Hoa store opens on July 9 in the southern province of Dong Nai (Photo: Tuong Thuy)
Metro Cash and Carry Vietnam managing director Randy Guttery beat the drum nine times to open the ninth store in the witness of Heinrich Birr, Metro vice president for international affairs, Dong Nai leaders, German Consul General in HCM City Karl Conrad Cappell and representatives of Metro's suppliers, among others.
"After seven years of operating in Vietnam, the self-service wholesale concept of Metro Cash and Carry has shown its uniqueness and its adaptability to this market," said Mr. Guttery.
"We see a big prospect for our business to business concept and we are committed to expand our cash and carry wholesale business in Vietnam, bringing new jobs and economic benefits to the country."
This store is called Metro Bien Hoa as it is located in Bien Hoa City, just more than 30 km from Ho Chi Minh City, a southern economic hub. It covers about four hectares right in the heart of Bien Hoa, selling more than 26,000 items, with around 90% of them or so produced or grown in Vietnam, according to Metro.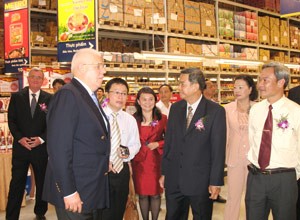 Metro Cash and Carry Group vice president Heinrich Birr (front, 1st L) and Dong Nai Province representatives make a tour inside Metro Bien Hoa store on July 9 (Photo: Tuong Thuy)
With a total investment of 20 million euros, including 17 million for goods, the store provides direct jobs for between 400 and 500 people, not to mention indirect jobs, said Mr. Guttery.
He added the opening of Metro Bien Hoa will help small and medium-sized companies in the province and others in the south enhance their business.
At a press conference after the opening ceremony, the managing director remarked Metro Vietnam's performance till now: "We are very very happy with the results in Vietnam, which are better than expected." He did not give detailed numbers, saying the Metro Group does not count an individual country among the 29 countries Metro is present across the world.
He said Metro Vietnam posted its 2008 export revenue at US$100 million, and Europe is currently its main export market.
He added, "We see a bright future here in Vietnam." However, given the opening of the ninth store, Mr. Gutter said, "We have no new store to announce in a near future.
He also told reporters that the Metro Group has no plans to invest in retail in Vietnam.
Mr. Birr, vice president for international affairs, said despite of the current global economic downturn, Vietnam's economy is forecast to growth 5-6 percent this year. He said his group always tries to increase investment in markets with high growth rates to increase profit, such as Asia-Pacific and Russia now. He gave a number: 85% of Metro's total sales come from outside Germany.
Metro Vietnam says it has invested US$120 million in Vietnam, not including 20 million euros for this new store, and more than 500,000 business customers in the country are buying at Metro.
The company now operates three stores in Ho Chi Minh City, two in Hanoi, and each in Hai Phong, Danang, Dong Nai and Can Tho, as well as two distribution platforms in Binh Duong and Lam Dong provinces.