The Vietnam-US High Technology Dairy Corporation, whose trading name is Milky US, launched its dairy products in Ho Chi Minh City on May 19.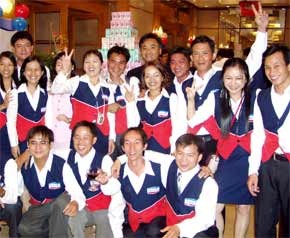 The Milky US staff gather to launch the dairy products (Photo: Tuong Thuy)
The Milky US sterilized fresh milk mainly target children from six to 12 years, general director Dang Quang Hanh said, adding his company will extend its product lines to target consumers of all walks of life.
He said the Milky US products are produced with materials imported from Europe and New Zealand and technology of Gannon Viet Nam, an American company. Engineers of Milky US and Gannon supervise the production lines.
He told the Sai Gon Giai Phong that his company's fresh milk with oat flavor has no competitors in Viet Nam because other dairy companies in the country have not produced fresh milk with this flavor.
Milky US is a joint-venture between Vietnamese companies Tan Tao Industrial Park Joint Stock Co., Tan Duc Investment Corp., Tan Long Phat Co., and Tan Tao Service Co. Its 50-hectare factory has a designed capacity of 30 million liters of milk annually. The US$10 million plant is located in Tan Duc Industrial Park in Long An Province near Ho Chi Minh City.
Mr. Hanh said his company would build in the near future a large-scale plant in this industrial park, which will make yogurt, nutritional powdered milk, soya milk, and fruit juices.
He said Milky US has established over 30 distributors in the southern and central regions. The company also plans to distribute its products in the northern provinces and export in the future.
Among the VIPs at the May 19 launching ceremony were Mr. Kenneth Chern, US Deputy Consul General in Ho Chi Minh City, and Mr. Walter Blocker – Gannon Viet Nam Managing Director and Chairman of the American Chamber of Commerce in Viet Nam, Ho Chi Minh City Chapter.