The Ministry of Finance has adjusted import and export duties on automobiles and certain other goods, effective immediately, in an effort to stabilize prices and ease the trade deficit.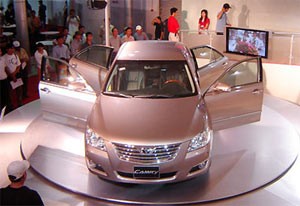 The import duty on new CBU automobiles is raised to 83 percent
Under Decision No 17/2008/QD-BTC, the ministry has increased export tax rates for coal to 15 percent, crude oil to 8 percent, metal ores (including iron and copper) to 20 percent, and building tiles to 12 percent.
Meanwhile, it has reduced import duties on certain agricultural products and raw materials needed for production and waived duties on unprocessed seafood.
 
Higher Tariff on Cars
At the same time, the ministry on April 21 raised the import duty on new completely-built-unit (CBU) automobiles from 70 percent to 83 percent in a move to slow on the increasing number of cars on the nation's traffic-clogged roads.
The tariff on automobile parts and components imported for local assembly was also raised 3-5 percent, according to Deputy Finance Minister Do Hoang Tuan Anh.
The decision, the second auto tariff hike in 2008 and the first since the April 2 hike from 60 to 70 percent, is part of a Government drive to reduce traffic congestion by decelerating the mass importation of automobiles as well as an effort to curb the trade deficit.
 
Experts said the Government had attempted to force local automakers to reduce sale prices by cutting import tariffs on CBUs and used cars, but the price of domestic automobiles has remained stable.
Viet Nam imported 12,000 CBUs in the first quarter of this year and US$614 million worth of auto parts and components, up 324.6 percent year-on-year.
However, imports in March totaled 6,000 units, half of total imports in the first three months of the year, according to the General Department of Customs (GDC). The startling one-month rise may have spurred the decision to raise the import duty.
Hyundai was the leading import mark in March, with nearly 2,000 units, of which its Santa Fe SUV and Getz subcompact accounted for 1,007 and 805 units, respectively.
Toyota ranked second with 1,800 units, of which 463 were Camry and 398 the Yaris model.
According to the Ministry of Transport, auto imports were expected to total US$600 million this year, up from US$523 million in 2007.
Imports of auto parts and components were also likely to reach US$930 million this year, up US$15 million.
Auto prices in Viet Nam are among the highest in the world, 60 percent higher than in Europe and 30-40 percent higher than in regional countries.
Last year, Viet Nam slashed the import duty on autos three times; from 90 percent prior to joining the WTO to 80 percent in mid-January 2007, then to 70 percent in mid-2007 and to 60 percent in November 2007.