Among Vietnam's labor export markets, Russia is one of the largest potential destinations, especially in the textiles and garment and construction sectors. However, the State needs to pay attention to training highly quality workers, said the Ministry of Labor, War Invalids and Social Welfare (MOLISA).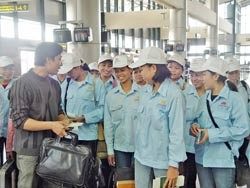 Laborers are going to Japan to work under the management of Suleco Co.
In 2008, Vietnam and Russia signed an agreement for labor cooperation and opened labor exports.
Sending workers to Russia to work has been promoted since the beginning of 2008.
MOLISA estimated the number of workers in Russia to be in the hundreds and thousands, with most working in textiles and garments and machinery manufacturing.
According to Nguyen Thanh Hoa, Deputy Minister of MOLISA, Russia is a great potential job market, its demand for workers is very large, as many Russians are working overseas.
At present, nearly 30 Vietnamese companies are allowed to recruit and send workers to Russia.
The labor export companies need to register labor contracts with the Overseas Labor Management Department and ensure average incomes are around US$290- 350 per month.
Incomes will be higher once people work extra time, around $400 per month.
Since the end of 2008, many foreign job markets were affected, including Russia, due to global economic downturn.
Out of the many Vietnamese workers who were sent to Russia, many had to come back early as Russian companies had to cutback staff during the economic crisis. A total of 7,000 workers from the world have had to come back due to such problems.
Others workers had to wait to 2-3 months to get work once they were in Russia.
Currently, around 30 percent of workers sent to Russia are in danger of losing their jobs.
Mr. Hoa said labor export agencies must compensate workers if companies finish contracts early.
He agreed that Russia is a large market for exporting workers, but the country needs to continue to carry out evaluations of the job situation.
The Ministry asked the department to establish a delegation to visit Russia to review the situation before promoting work opportunities.
Russia has a strict demand for highly quality workers, as well healthy workers. The agencies need to pay special attention before sending them to Russia.
According to Dao Cong Hai, deputy head of the department, some workers did not find jobs in Russia and had no money to come back the country. He asked companies to bear responsibility to find jobs for workers or bring them back if they cannot do so.
For labor export agencies, to avoid the risk they need to check the situation by contacting the Vietnam embassy in Russia, Mr. Hai stressed.