The Ministry of Agriculture and Rural Development has plans to invest in 20 agro encouragement projects to promote agricultural production capabilities for the poor.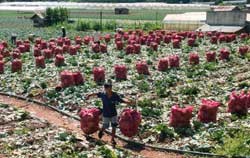 A farmer in the Central Highlands province of Lam Dong harvests vegetables.(Photo:VNA)
These 20 projects will be implemented at an estimated capital of VND101.2billion (US$5 million).
During the period 2011-2013, 11 projects will also be implemented, such as the development of  ranches in Thanh Hoa, Lao Cai and Tuyen Quang provinces with a capital of VND2.4 billion (US$120,000) and projects to produce vegetable under standard VietGAP in Hoa Binh, Bac Giang, Ha Nam, Hung Yen, Ninh Binh and Phu Yen provinces.
The projects will be carried out with an aim to help poor rural farmers learn how to manage capital well, enhance capability and organize production, raise income in each cultivated area, gradually improve their lives and finally escape poverty. 
The deputy Minister of Agriculture and Rural Development said since 1993, the national agriculture and aquaculture extension programme has increased the number of farming activities, with all cities and provinces now having programmes integrated into their governments and local budgets.
More than VND1.5 trillion (US$75.6 million) has been invested in the programme nationwide in the last five years.
In related news, the price of shrimp has hit a record high since the past ten years, in the southernmost Province of Ca Mau.  The price is now VND260, 000 per kilogram of 20 units, VND190, 000 per kilogram of 30, VND155, 000 per kilogram of 40 units and the white leg shrimp is at VND85, 000 per kilogram for 100 units.