The Ministry of Agricultural and Rural Development will spend VND32.8 trillion (US$2 billion) to enhance the competitiveness of Viet Nam's coffee so that 50-70 percent of coffee production will be traded internationally by 2015.
Le Xuan, head of the Ministry's Department of Agro-Forestry Product Processing and Salt Production talked to a Sai Gon Giai Phong reporter about the project.
Reporter: Is the target of trading 50-70 percent of the coffee production internationally by 2015 ambitious?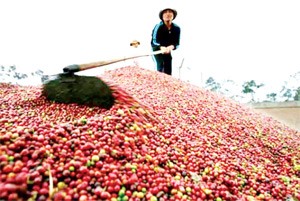 50-70 percent of the Vietnamese coffee production will be traded internationally by 2015
Mr. Le Xuan:
We calculated carefully before setting the target. At present, the country is growing coffee in 500,000 hectares and can produce one million tons of coffee for export worth US$2 billion.
The country ranks second after Brazil in coffee exports. However, challenges are still ahead if we want to take the initiative in the global trade.
According to the project, periodic trading will be conducted at trading floors in the Central Highlands and Ho Chi Minh City. Does this kind of trading help avoid risks?
We can't avoid all risk in export. However, taking part in the international trading floors can help the country's coffee industry avoid many risks and will help exporters do their business more effectively.  Vietnamese exporters can seek more potential importers and take the initiative in organizing shipments after signing export contracts.
Besides, coffee companies can use coffee consigned to the trading floors to borrow money. 
 
Can coffee farmers take part in the trading floor?
There are three parties on the trading floor, including the seller, the buyer and the broker.  Farmers can take part as sellers. However, only big farmers can take part directly in trading. Small farmers should take part through merchandisers.
The establishment of trading floors will help farmers sell their product at the right price.
The project said 50 percent of the Vietnamese coffee production will be certificated by 2015. Is this number low?
The figure of 50 percent has been calculated based on the country's production capability.  It will be good if the target is hit.
The department will advise the ministry to establish standards for Vietnamese coffee which will conform to reality and to the Sanitary and Phytosanitary Measures Agreement in 2008.
Foreign buyers presently don't care about the category of coffee, but rather about production facilities, workers' health and the diseases of coffee plants.
Why doesn't the project mention building a brand name for Vietnamese coffee as this is very important?
Vietnamese coffee companies have their own brands. However, the ministry has studied a strategy to set up a brand name for Vietnamese coffee.  Considerable money will be spent to enhance the quality of coffee beans and processing technology.
At present, Vietnamese coffee is sold on the world market under the brand names of foreign importers.  The ministry will hold events to promote the quality of Vietnamese coffee to big international buyers.
Related article:
Vietnamese Cofffee Industry to Get $2 Billion Makeover