To obtain the target, the ministry will continue broadening farming area of some major fruits with high export value such as green peel pomelo, banana, mango, orange, pineapple and longan; improve output and food safety and reduce cost price in the upcoming time.
According to the ministry, the country now has about 910,000 hectares of fruits with the output of 9.5 million tons a year. Of these, the Mekong Delta accounts for 50 percent area and 60 percent output.
Vegetable and fruit export has been on the rise in recent years from $151.5 million in 2003 to $1.07 billion in 2013 and $2.45 billion in 2016. During the first 11 months this year, it reached $3.16 billion, up 43.2 percent compared to last year.
At present, vegetables and fruits are exported to 40 nations and territories in the world including the US, Australia, New Zealand, Chile, Japan and South Korea.
At present difficulties are: small and scattered production and shortage of connectivity between businesses and farmers. More over, processing and preservation after harvest are still weak, thus added value is not high.
Deputy minister of Agriculture and Rural Development Le Quoc Doanh required localities to reorganize production, intensify science and technology application, step up connectivity between businesses and farmers and create mechanisms to lure businesses to invest in fruit processing and export.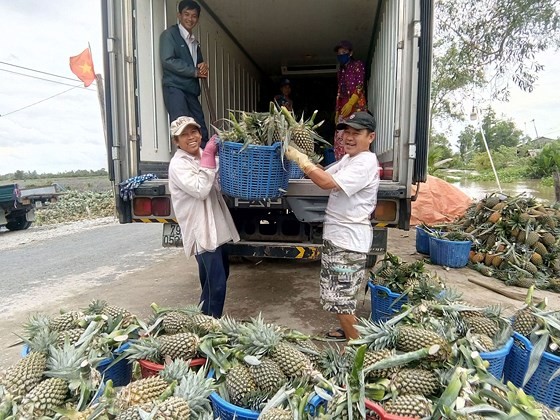 Farmers transport pineapples to processing plants in the Mekong Delta province of Hau Giang (Photo: SGGP)