The Ministry of Finance has issued a circular supporting 70 percent on the cost of several activities that promote domestic products or destinations.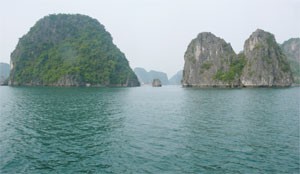 A view of Ha Long Bay in northern Vietnam. A new policy supports firms and agencies that promote vietnam products and tourism spots overseas (Photo:Phan Hien)
Any firms and organizations that promote made-in-Vietnam goods, industries and tourist spots abroad would be supported on the advertisement cost, according to overseas prices.
The same support will be given to advertising campaigns stimulating Vietnam's export, conducted by foreign media agencies invited to Vietnam, according to the circular effective from the beginning of August.
Firms or organizations that consult local and foreign experts on developing domestic products, Vietnam's export or help firms go deeper into foreign markets will also supported with consultancy cost.
Businesses attending exhibitions overseas will be given the entire cost, but not more than VND200 million (US$9,700), on site rent, design, decoration, invitation cards and reception, the circular said. 
The circular is a part of the national trade promotion program.