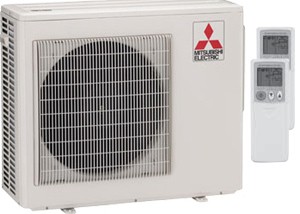 (File) A Mitsubishi air-conditioner
Japan's Mitsubishi Electric Corporation announced Tuesday that it had established a Vietnam company this month to coordinate sales of air-conditioning systems, home appliances and, from next year, factory automation products.
The Japanese company has so far primarily conducted sales in Vietnam indirectly through distributors, and shifts to direct sales now.

"Due to Vietnam's remarkable growth prospects, Mitsubishi Electric is now positioning the country as a priority market and has decided to establish a local company to coordinate sales," the manufacturer said in Tuesday's announcement.

Mitsubishi Electric Vietnam Company Limited will officially start operations on July 1, targeting annual sales of 8 billion yen (about US$95 million) by the fiscal year ending in March 2016.
Mitsubishi Electric Vietnam is located at the Saigon Trade Center in Ho Chi Minh City's District 1, with Kunihiko Seki being managing director and US$8.1 million in its paid-in capital.
Mitsubishi Electric said the new company "will act as a base to strengthen distributor partnerships and build direct sales channels, and consider the establishment of branch offices in Hanoi and other locations in line with sales expansion."

The Japanese company said during the global financial crisis, Vietnam has maintained high levels of GDP growth, including a rate of 5.3% in 2009. Further expansion is expected in 2011 onward.

It added, "Due to rising living standards, government-led energy and rail infrastructure construction and a large number of major projects, such as housing developments, increasing demand is expected for home appliances and electrical equipment for urban development."

Mitsubishi Electric Vietnam is a 70:30 venture between Singapore-based Mitsubishi Electric Asia Pte. Ltd. and Japan-based Mitsubishi Electric Corporation. It will have about 40 employees, starting April next year.

The Japanese manufacturer says a Mitsubishi study showed that a home air-conditioner penetration in Vietnam remained low at 3.1% in the fiscal year ending March 2010, but increasing demand is expected. Its Vietnam unit will market value-added models offering easy cleaning and other features aimed at high- and middle-income earners.

It adds that the demand for commercial air-conditioners also is rising in Vietnam due to their increased use in office buildings, hotels and other structures. The sales company will market product lineups and systems that meet diverse customer needs.

In addition, a wide range of two- and three-door refrigerator models will be marketed to middle- and high-income households.

In the fiscal year ending March 2013, the sales company will establish its own factory automation sales division for marketing and sales network development, Mitsubishi said.