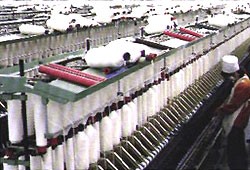 Textile is one of the sectors with the highest tariff reduction as Viet Nam joins WTO.
Nearly 10,600 types of tariff will be reduced by 22 percent, compared to the current import tariffs, within 5 -7 years as Viet Nam accesses into the World Trade Organization (WTO). It will affect the production of 41 out of 87 sectors.
The information is given in the Ministry of Finance's assessment on the effects of WTO commitments on production industries according to the practical protectionism coefficients.
The sectors with the highest tariff reduction include textile, aquaculture, wood, paper, steel, automobile, auto's spare parts, and other machinery and equipment.
The reduction will narrow the State's over-protectionism for sectors which enjoy Most-Favored Nation tariff rates (MFN). The actual import turnover affected by the tariff reduction is up to nearly 20 percent of the total of annual import turnover.