Speaking at a conference, Deputy Prime Minister Hoang Trung Hai, said that achievements made by the key economic zones in Vietnam are satisfactory and contributed greatly to the socio-economic development of the country, but much still needed to be done.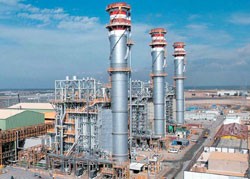 A production facility in the central province of Quang Ngai's Dung Quat Economic Zone (Photo:VNA)
Import-export revenue in the key economic zones in Vietnam reached US$602 billion during the period 2006-2010 and attracted 12,478 foreign direct investment projects worth $162 billion, about 91.32 per cent of all FDI projects in the country.
These figures were released at the conference to review the socio-economic development in major economic zones during the period 2006-2010 and implementation of further plans for the period 2012-2015.
In the last five years, the gross domestic product (GDP) growth rate in major economic zones in Vietnam increased by 10.98 per cent, while average yearly income per person reached VND34.6 million.
Export revenue from major economic zones exceeded $280 billion, accounting for 89 per cent of the total export revenue in the country. Import revenue was over $321 billion, about 93 per cent of all import revenue in the last five years.
Many tasks like in environment protection, building of hostels, accommodation for workers and taking care of employees living conditions, were still inadequate. Many industrial zones in the economic zones continue to discharge untreated waste water indiscriminately into the environment.
Deputy PM Hai affirmed that the industrial and economic zones would   be upgraded in a sustainable and environment-friendly manner, so as to raise Vietnam to the level of other industrialised countries by 2020.
By 2015, the average yearly income of a person working in major economic zones should reach $3,000 per person, and import-export revenue should increase by 14-14.5 per cent annually.
Deputy PM Hai also outlined crucial tasks and solutions for the zones, saying that the zones needed to develop high-tech industries and high-quality services, such as in software and information technology, and improve on appliances, automation and production of new materials.
Currently, the country has four major economic zones that include the Northern Economic Zone, the Central Economic Zone, the Southern Economic Zone and the Mekong Delta Economic Zone.