Deputy Head of the Central Economic Committee Le Vinh Tan said that local authorities should closely work with Vietnam Pangasius Association and relevant agencies to implement more drastic measures for successful restructuring of the overdeveloped and downward tra (pangasius) fish industry.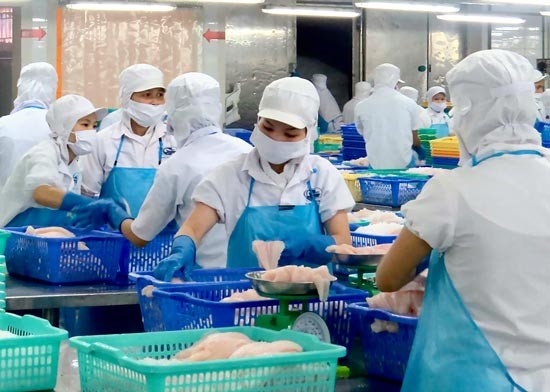 Tra fish processing for exports in Dong Thap Province (Photo: SGGP)
He made the statement at a meeting hosted in the Mekong Delta province of Dong Thap by the Southwestern Steering Board and the association yesterday morning.
According to Mr. Tan, it is necessary to improve policies and implement key solutions to drive the restructuring strategy successful, for instance estimating the implementation of Government's Decree 36 on tra fish processing and exports.
From that local authorities and the Vietnam Pangasius Association could launch more drastic measures to reorganize the industry, he said.
Tra fish industry had showed downward signs for the last five years, he said. About 80 percent of businesses in the field are in difficult conditions, breeders and processing plants have been pessimistic and uninterested in further investment any longer.
Main consumption markets have seen a shortfall, trade barriers have more and more been set up by large export markets, businesses have unhealthily competed with each other affecting breeders' prestige and brand names of export products. These are considered as unavoidable consequences from excessive development of the tra fish industry, he added.
Secretary General of the Vietnam Pagasius Association Vo Hung Dung said that tra fish industry restructuring project aimed to improve quality, build new images, make business finance healthier, increase capital access ability for breeders and businesses, deepen export markets, and build a distribution channel to broaden consumption markets.
Accordingly, tra fish industry reform will focus on restructuring the market, product quality, business finance, and administration, he added.
Statistics from the Vietnam Pangasius Association showed that Vietnamese tra fish products have been exported to nearly 150 nations and territories worldwide, farming areas have reached 6,000 hectares.
Last year export value hit US$1.76 million, up 0.4 percent against the previous year. It was down to major markets like the U.S. and the EU but up in some emerging markets such as China, Hong Kong (China), Columbia and Mexico.