Another 200 enterprises were admitted to the club of Viet Nam's businessmen this morning at the Ho Chi Minh City Friendship House, raising the number of its members to 300.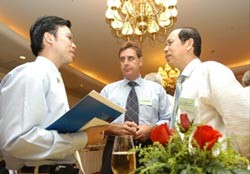 Businessmen talk about economic cooperation
With the motto "Enterprises' development is the club's", the club was established to unite enterprises in the city as well as in the whole country to boost their competitiveness in the country's international economic integration.

The club also aims to assist member enterprises in making plans, loans, quality registration, industrial ownership, market and legal information, product promotion; and to provide business opportunities and hold experience-sharing meetings.