According to the Vietnam Leather and Footwear Association (Lefaso), more international high - profile companies are considering shifting production base from China to Vietnam, to be able to expand their   facilities to meet the growing world demand.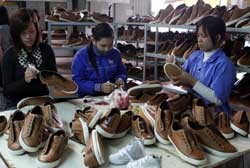 Workers at a shoe export company. Footwear exports turnover reached US$3.62 billion in the first seven months of this year ( Photo: VNA)
Local demand for suitcases, bags has also increased as people have begun to boycott cheap and poor quality Chinese–made products, said Nguyen Duc Thuan, Chairman of Lefaso.
In response to this move,  local businesses are expanding their production facilities and production capacity.
Vietnam has earned nearly US$6.2 billion from export of leather shoes and $1.3 billion from export of suitcases, bags in 2011, according to Lefaso.
The Vietnam Garment and Textile Association (Vitas) reported garment and textile exports reached $15.6 billion, exceeding by $1 billion the set target of $15 billion.
Vietnam exports its products mainly to the US, Japan, EU and Middle East countries.