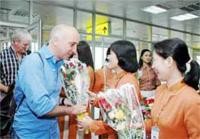 International visitors come to Ho Chi Minh City (Photo: Viet Dung)
From 0 AM to 15:45 PM of January 1st 2006,  3,114 visitors entered Ho Chi Minh City , among whom there is  a large group of 116 Australian visitors.
Department of Tourism, Tourist Association and some Tourist companies in Ho Chi Minh City met them at the Tan Son Nhat airport.

Although early in the year, tourist companies have had lots of booking from foreign tourists. In Saigontourist alone 4,500 international visitors book their tour in January, increasing 9% year on year. Fiditourist and BenThanh Tourist also welcome 27 groups of more than 1,500 international visitors.
 According to Department of Tourism, more than 2 million international visitors came to Ho Chi Minh City last year. With the good signals, it was estimated that the number of international visitors to Ho Chi Minh City will exceed 2.2 million.