Although it is mid December and a festive shopping season, motorcycle businesses are seeing a slump in sales even after offering discounts and promotions.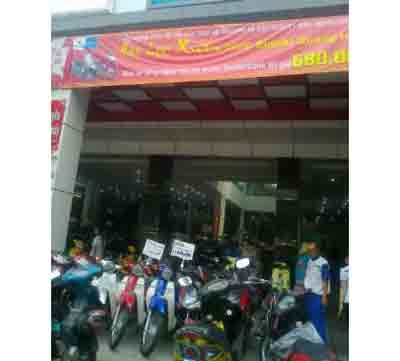 Despite offers of discounts and promotions during the holiday season, motorbike stores are facing a severe sales crunch (Photo:  Phuong Uyen)
Just a few months ago, customers who wanted to purchase a new motorbike had to register well in advance and wait a further six months to get their favorite bike.
These days it's just the reverse with stores waiting in vain for customers to buy.
A store owner in Nguyen Tri Phuong Street in District 5 complained that never before has business been so depressed when only a few bikes have sold in a week.
Besides, customers have become so fussy that store salespeople have to entice them for a long time before they manage to sell even one bike.
Motorbike business has slumped even though dealers have downed prices. For instance, Honda's new Vision scooter is priced at VND30 million (US$1,427) at stores in An Duong Vuong Street while the Honda company proposed a price of VND34 million. Similarly, white Honda PCX scooter is down to VND55 million, 3 million lower than Honda Company's proposal.
According to experts, a depressed sale can be attributed to the current economic crisis, but motorbike manufacturers and agents have to keep up to overcome present challenges.
Of late, Honda motorbikes have seen a slow sales rate after several Honda scooters burst into flames while travelling on Hanoi streets, causing panic amongst customers.
Some people have sold their Honda scooters to second hand buyers on Hoang Van Thu – Nguyen Kiem crossroad in Phu Nhuan District. 
Le Van Binh, owner of Binh Minh store said, some people sold their scooters because they feared they may burst into flames, and others have switched to motorcycles to conserve fuel saying that scooters are big fuel guzzlers.