Multi-Purpose Vehicles (MPV) impress consumer with their practically versatile capabilities. Their usual customers are not only connoisseur car users, but also those who are in need to use a car as transportation means. Currently they are getting more popular in Viet Nam thanks to this versatility.
Diversified market

Currently multi-purpose vehicles (MPV) are getting popular in Viet Nam due to their versatility. Well-off businessmen, successful employees, who need a car for their lifestyle activities, are the usual owners of MPVs.
MPV's versatile capabilities meet their demands, including cargo carrying, travel, business trips, durability and especially the reasonable prices.
Unlike a few years ago, many big automobile firms have currently produced a vast array of MPV models, such as Trooper, Hi-Lander of Isuzu; Land Cruiser, Innova, Zace of Toyota; Everest, Escape of Ford; Jolie, Pajero of Mitsubishi; Vitara of Suzuki; Terios of Daihatsu; Musso of Ssang Yong; Premacy of Mazda, etc.
Recently the revenue of MPVs has surged rapidly. They made up over 11 per cent (3,066 cars) of the car market in 2002, up to 12.1 per cent (5,156 cars) in 2003, 15 per cent in 2004, and they have occupied 22 per cent the total number of cars sold so far. In the first 3 months of this year, Innova, Everest and Zace are three of the five best-selling models in Viet Nam.
MPV models bear the highest expectation of the firms who might be able to sell just a few cars per month. Premio and Proton, two main models of the Mekong Auto Company, have occupied 65 per cent of the cars sold and Hi-Lander model of Isuzu 81 per cent.
Versatile models and their attractiveness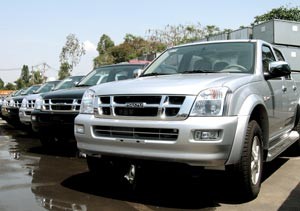 Four-Wheel drive Isuzu cars (Photo: T.C.)
The engine of a MPV model is stronger than that of the sedan model. As a four-wheel drive, it can be useful in rough terrain, and it is designed with a significant interior space, usually up to 7 – 8 seats.
The last row of seats, which can be folded up, offers a very large cargo area. Many models like Ford, Everest, Fiat Stilo, Zace, etc, are equipped with premium accessories, including seat belts, air bag, ASB brake system, Anti-Slip Regulation system (ASR) and Hi-Fi CD players.
In addition, most of the MPVs in Viet Nam come with a diesel engine, which is one of the model's economic advantages. In practice, cars equipped with diesel engine use 25 – 40 per cent less fuel than those equipped with petrol engine, while the diesel's price is VND2,000/ litter lower than gas.
Customers are increasingly attracted to MPV models and it is anticipated that many more eight-seat MPV models will appear in Viet Nam.