Small and medium-sized enterprises have proliferated, especially after Viet Nam joined the World Trade Organization, but experts say they are too small, inefficient, and face a serious shortage of financial and other resources.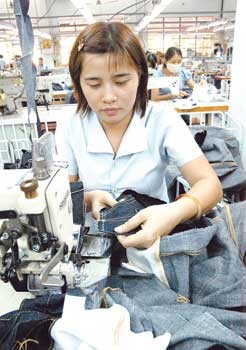 A worker sews jeans at the An Hoi garment factory in Ho Chi Minh City (Photo: Duc Thanh)
According to the Vietnam Chamber of Commerce and Industry there were 300,000 companies by the end of last year, of which 95 percent were SMEs.
Just last year, the year the nation entered the WTO, 50,000 new SMEs were set up. Ho Chi Minh City accounted for well over a third of them.
In the 2000-2005 period, SMEs recorded the fastest growth of all categories of business. While they accounted for 24.6 percent of industrial output in 2000, by 2005 it had shot up to 37.5 percent.
They have also been in the forefront of creating jobs, accounting for 90 percent of all new jobs, according to a report.
But they face many hurdles to development.
The General Statistics Office and State Bank of Vietnam reported in 2006 that 96 percent of SMEs had fewer than 300 employees and were capitalized at less than VND 10 billion (US$602,000).
Over 41 percent of them had a capital of VND1 billion or less, and over 51 percent had 10 employees or less.
More than two-thirds of SMEs suffer a shortage of working capital while many of them also lack access to technologies.
Their other shortcomings include poor marketing and quality and lack of strategic management.
A report by the Ministry of planning and Investment said 43 percent of SME owners have just high-school diplomas and are handicapped when it comes to management skills. It also pointed out that 63 percent of SMEs are unable to find good human resources.
Economists warn that Viet Nam will face great difficulty if it attaches too much importance to setting up business groups or general companies. If the Government uses the large sums of money it provides big groups to support SMEs, it will generate large returns, they say.
Their argument is that SMEs know how to squeeze out profit from every dong.
It is time the government recognizes the role of SMEs in the economy and puts policies in place to ensure their development.