Deputies at the third session of the 13th National Assembly continued their working day to debate a comprehensive plan to restructure the national economy.
A majority of the National Assembly deputies raised their concern over the issue related to finance and labour source, and the roles of the agriculture and rural sectors. The reform of the State-owned enterprises (SOEs) were also the focus of the overall plan.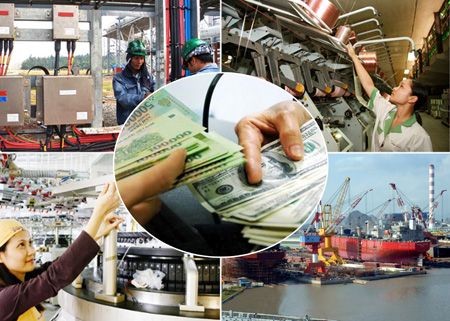 Illustration photo
A deputy from the Central Highlands said that the Party's orientation on the social economic development in the 2011-20 period was to develop the farming sector in a modern, effective and sustainable manner. This was the right direction as 80% of the population were now living in the rural areas and thus playing a key role in developing the country's economy. However, farmers over the years have not yet enjoyed the benefits of the country's economic growth despite their valuable contribution to its economic development.
Another deputy from Dak Nong Province also in the Central Highlands said the plan should focus on high-tech investment in the agriculture sector in order to raise the effectiveness and productivity for this sector.
Deputy Pham Trong Nhan of southern Binh Duong Province worried about the feasibility of the plan in the national economy restructuring. The Government should forecast and give a deeper analysis of the impacts of the plan on the whole society.
"Where and how to start the plan is an issue as businesses and enterprises directly involved in restructuring are exhausted. How do they restructure while facing limited finances and stockpiled products?" Mr. Nhan said.
"We should not have a high expectation of this plan that will conduct optimal solutions to help the economy overcome difficulties. First, we have to overcome the weakness of the economy as soon as possible for economic stability as well as ensure the social security," said Deputy Nhan.
Deputy Nguyen Ngoc Hoa of HCM City stressed that restructuring included the re-allocation of finance and labour sources of the whole society for economic growth, noting a series of essential expenses needed in the plan such as tax exemptions, financial assistance for ailing businesses, jobless people, bad debt and so on.
"The plan should be financially calculated in a transparent manner," he stressed.
Deputy Huynh Van Tinh of southern Tien Giang Province said the plan needed a roadmap and outlined prioritised industries that needed to be deployed first to avoid haphazard and less effective investment.
Deputy Tran Van of southernmost Ca Mau Province said the Government had to make further efforts and outline drastic measures to handle problems in the process of restructuring due to the economy's frailties.
He cited Vinashin and Vinalines as examples of SOE's inefficiencies that need to be addressed as soon as possible.
Regarding the finance source for the process of restructuring, Minister of Finance Vuong Dinh Hue said his ministry would pump more capital for SOEs, especially healthy ones.
Minister Hue noted State capital disinvestment from SOEs should be carefully considered to avoid losses for the State while M&A activities would be stepped up
VGP