The Agriculture and Rural Development Department of Vinh Long Province will sign a contract with Metro Cash & Carry Viet Nam on Friday to cultivate Nam Roi grapefruit of EurepGAP standard for selling in Europe, department head Nguyen Van Thanh announced yesterday.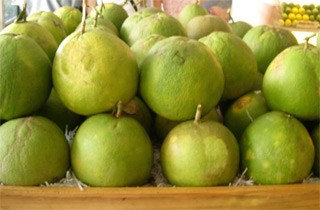 Nam Roi grapefruit will be sold in Europe after it meets EurepGAP standards (Photo: Thuy Hang)
Under the Metro-funded project worth US$40,000, growers in the southern province will be taught the correct cultivation techniques as well as processing, management, community accountability, and enhancement of product quality in line with EurepGAP regulations.
 
When the Nam Roi grapefruit meet EurepGAP standards, Metro will market them for sale in Europe.

EurepGAP (GAP is an acronym for Good Agricultural Practices) began life in the late 1990's as a common standard of farm management created by technical representatives of several European supermarket chains, with inputs from major suppliers.

The aim of all concerned was to eliminate the increasing multiplication of overlapping supplier standards published by different retailers that was creating headaches for farmers.

It is the most widely implemented farm certification scheme in the world. Most European buyers of agricultural produce now demand evidence of certification as a prerequisite for doing business.