PetroVietnam and Vietnam Airlines are working out the details of an agreement that will have the national carrier consume all the aviation fuel produced in the country, thereby effecting considerable foreign exchange savings.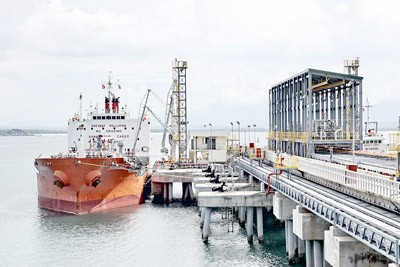 A vessel receives the first batch of jet fuel produced by Dung Quat Refinery. (Photo:SGGP)
The move comes after the first ever international sale of domestically produced aviation fuel was made this month. PetroVietnam subsidiaries Binh Son Refinery and Petrochemical Co. (BSR) sold the first batch of Jet A1 aviation fuel for aeroplanes of 4,500 tons, produced by the Dung Quat oil refinery, to BP Singapore Pte. Ltd
Nguyen Hoai Giang, general director of BSR said the sale proved the
country was capable for producing fuel of international standards.
Several major oil companies including Shell, BP, Chevron, ENI, ExonMobile, Kwait Petroleum and Total had, in May, checked the quality of Jet A1 fuel made in Vietnam before buying it in the market.
Jet A1 meets both the US international ASTM and British DEFSTAN standards, Giang said.
The Dung Quat Refinery is expected to produce 120,000 tons of aviation fuel until the end of the year and when it operates at full capacity in 2011 and thereafter, from 200,000 to 300,000 tons per annum.
Foreign currency savings
Given the rising trade deficit, the government has been mulling several measures to encourage domestic production, especially of goods that the domestic market needs and is short of.
The domestic sale of aviation fuel produced within the country is one such product that can help reduce imports and save foreign currency.
Pham Ngoc Minh, General director of Vietnam Airlines Pham Ngoc Minh said the aviation industry uses over 700,000 tons of petrol each year, worth $45-46 million.
If the Dung Quat Refinery operates at full capacity, it would meet less than 50 percent of the industry's current demand, at around 300,000 tons of petrol, said Minh. However, the industry would be able to save a huge amount of foreign currency, if it is able to consume all the aviation fuel produced here.
Vietnam Airlines may underwrite the entire aviation fuel production by Dung Quat Refinery in near future, after the product meets these quality control standards: ISO 0991:2008; ISO 14001:2004; and OHSAS 18001:2007, said Mr.Minh.