With the theme "Vietnam Fisheries: Potential, Development and Integration," the Vietnam Seafood Festival 2010 kicked off in the Mekong Delta city of Can Tho on April 24.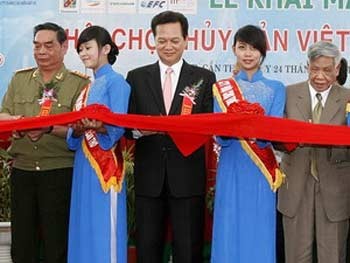 Prime Minister Nguyen Tan Dung (C) cuts the ribbon to start the Vietnam Seafood Festival 2010 in Can Tho City on April 24 (Photo: VNA)
More than 160 businesses across the country are displaying their products and services at about 500 stalls at the festival.
Speaking at the festival's opening ceremony, Prime Minister Nguyen Tan Dung said Vietnam, a country with a great potential in fisheries, has taken a big leap in its seafood industry in the past several years.
Last year, despite impacts of the global economic crisis, the country earned US$4.25 billion in seafood exports, up 40 times from 1986, the PM said.
During the past 24 years, seafood exports have brought in $34 billion and become one of the money-spinners of Vietnam, placing the country among the world's six leading seafood-exporting countries, he said.
However, he pointed out some weaknesses of the fisheries sector, including small-scale production, poor logistics services, and loose coordination between fisheries breeders, suppliers, processors and exporters.
He asked the sector to take measures to overcome these weaknesses and step up renovation of their breeding, processing and export methods to sharpen the competitive edge of Vietnamese seafood on the world market.