In 2003, the Prime Minister approved a long-term project to build and develop national trade names until 2010, aiming at encouraging the setting up and popularization of typical trade names of Vietnamese products. Accordingly, any product that meets national standards, to be produced in Viet Nam, with a commercial name and geographical connections will be offered the logo of Vietnamese value.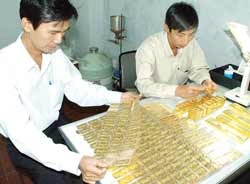 SJC 9999, a prestigeous trade name in the gold indutry in Viet Nam

 

Four years later, the project has made very little progress, and neither entrepreneurs nor products in the country have been offered the logo. Many think that this is a big problem for a country with a population of over 80 million potential consumers.

As far back as 2002, when the High-Quality Vietnamese Goods Club surveyed 500 Vietnamese entrepreneurs about their present situation in setting up trade names, the results pointed out that 50% of the enterprises did not have employees in charge of management of trade names. As to the remainder, only 5% had professionals who had joined in related training courses abroad, 70% had invested about 5% of their capital for the task, and the other 20% had not yet made any investment in it at all. 

Although many entrepreneurs in Viet Nam had not yet made adequate investments in building their trade names, the result of a survey conducted by AC Nielsen VN, a market research company, in 2006 indicated that Vietnamese consumers showed optimism about the quality of Vietnamese goods. Among 500 famous trade names on the local market, Vietnamese goods made up 50%.

Commenting on the results, foreign experts said that consumers have begun to place their trust in Vietnamese products, and that enterprises have continually made efforts in improving production so that their products can meet the increasing demand of consumers.

The above fact proves that Vietnamese enterprises are capable of setting up valuable trade names for their products. The reason that Viet Nam still does not have famous products in local and international markets is being blamed on functional agencies that have not yet paid adequate attention to legal issues related to the protection and expansion of Vietnamese enterprises' trade names.

Reality proves that many Vietnamese products' famous trade names are stolen by trade-name hijackers when they make their debut on the market. For instance, in 1998, a Vietnamese fish sauce enterprise failed to register the trade name of Phu Quoc Fish Sauce as it had been registered in advance by Kim Seng Co. in the United States. Likewise, in November 2000, the trade name of Trung Nguyen Coffee was registered in advance by the Rice Field Corp. in the United States and most recently, the trade name of Nang Thom Cho Dao rice, a specialty in Long An, was registered in advance by a more nimble competitor.

When asked to give remarks about building and developing Vietnamese trade names, Dr. Ton That Nguyen Thiem, working for the United Business Brussels Co., said that the problem is entrepreneurs' attitude of thinking too highly about the importance of a "national label" while making light of the product quality, market demand and of societal necessity. Nowadays, people do not trust in national labels so easily.

Mr. Vu Xuan Duc, head of the Trade Promotion and Investment Section of the Ho Chi Minh City Trade Promotion and Investment Center, said that to earn the national logo for their products, Vietnamese enterprises should invent specific characters for their products, not try to imitate foreign-made ones. According to him, a successful product must meet such criteria as national standards, possessing development potential and the character of a national product. 
Related article: