A congress held in Ha Noi yesterday launched the Viet Nam Association of Women Entrepreneurs and elected Deputy Minister of Industry and Trade Ho Thi Kim Thoa its first president.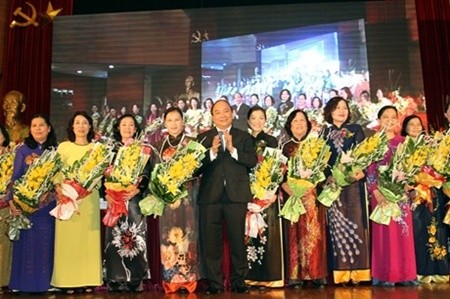 Deputy Prime Minister Nguyen Xuan Phuc (M) highly appreciates the contributions made by women to the nation's development.— Photo VGP
The association aims to improve women's roles in creating sustainable development in Viet Nam, and provide a forum for them to share their experiences and enhance their professional knowledge.
The association's first task will be to become a platform that connects businesswomen in all economic sectors and inspires them to contribute to national development in their chosen fields. It will also serve as a bridge between women in business and Government agencies.
Speaking at the event, Deputy Prime Minister Nguyen Xuan Phuc said he appreciated the contributions made by women to the nation's development.
The Party and State have continuously strived to enhance female representation in the business community, he said.
He also said he hoped the association would help businesswomen improve their capacities and skills to contribute to socioeconomic development and social equality.
Phuc also highly appreciated the Women's Union's efforts in past years to support businesswomen trying to balance work and family.
He hoped the new association would help talented businesswomen contribute to the country's socio-economic development and gender equality cause as well as protect its members' legal rights.
Top 100 women leaders
The Quyen Nang Phai Dep (Powerful Women) gala held on Saturday in HCM City honoured the top 100 women leaders in Viet Nam.
The Women Leaders International Networking Club organised the first-time event in collaboration with Lady Luxury magazin, and Nam Huong Media and Investment Corporation under the instruction of the Viet Nam Chamber of Commerce and Industry. It attracted more than 300 businesses and celebrities.
The women were selected for their outstanding achievements in the economic, cultural and social sectors, as well as participation in their communities.
Position of power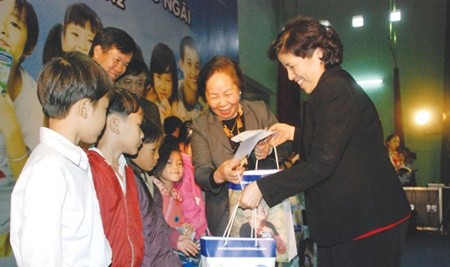 Vice President Nguyen Thi Doan (second, right) and Mai Kieu Lien (first, right), CEO and Chairwoman of Vietnam Dairy Products Joint - Stock Company, give milk to poor children in central Quang Ngai Province's Ly Son Island. Lien is the only Vietnamese woman to have been named among Asia's 50 Most Powerful Businesswomen three times by US business magazine Forbes. — Photo vietbao.vn
Vinamilk CEO Mai Kieu Lien was selected as one of the 48 most powerful women in the 2014 Forbes Asia Power Businesswomen list.
Mai Kieu Lien, CEO of the country's largest dairy producer Vinamilk, appears in the list at the 23rd place. Lien, 60, was honoured for her great contribution to Vinamilk, which Forbes describes as "one of the most profitable brands in Viet Nam and a blue chip on the local stock exchange," referring to its consistent growth in revenue and profit since listing in 2006.
Last year Vinamilk posted a 17 per cent increase in revenue, ranking in $1.5 billion; Lien plans to double that by 2017 as she takes the company global.
Lien was born in France and educated in Moscow. In 1976, she returned to Viet Nam and joined Southern Milk&Cafe.