Exports of some new products such as charcoal and wood pellets have witnessed high demand in niche markets, opening opportunities for Vietnamese companies.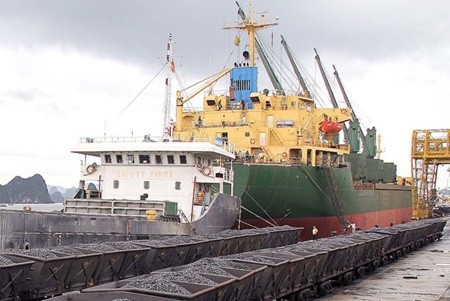 Coal from Cua Ong Coal Selection Company is loaded for export. Exports of some new products such as charcoal and wood pellets have witnessed high demand in niche markets. — VNA/VNS Photo Duy Khuong
Nguyen Tuan Viet, general director of VietGo Company – one of the companies specialising in import-export consultancy told Viet Nam News that charcoal and wood pellets from Viet Nam have been in demand in countries which have cold weather. Over a year, Viet Nam has become the main exporter to the Middle East, South Korea and Japan due to fluctuation of their supplies.
"These countries have a tradition of consuming grilled food that has high demand of charcoal from Viet Nam," Viet said, and added that charcoal has been exported at US$500 to $600 per tonne.
In the rest of the world too, Laos, Cambodia, Viet Nam and Africa are the usual suppliers of charcoal. However, the recent Ebola outbreak in Africa has made Asia, including Viet Nam, the biggest charcoal exporters.
In addition, Viet Nam has also been the temporary import-for-re-export destination of charcoal from Laos and Cambodia. The two countries have a large charcoal supply. However, Viet Nam has the advantage of cheap transport costs to Middle East, thus making it convenient in export the product from here.
"Before 2014, VietGo promoted charcoal exports from about six businesses a year. The number was increased to 32 in 2015 with the successful rate of up to 75 per cent. The product would cause a "fever" in the upcoming time as charcoal exports from Africa have been limited because of the effects of Ebola," he noted.
He added that in December 2015 alone, there were 25 orders from foreign partners to buy charcoal and wood pellets. Each day, there were one to two orders on an average while the supply has not been enough. Each order often required several thousands to hundreds of thousands of tonnes.
Provinces of Hau Giang, Thanh Hoa, Nghe An, Vinh Phuc and Bac Kan have been the biggest areas providing charcoal for exports.
He said wood pellets have been exported since 2007 with the highest profit of 30 per cent to 40 per cent as several countries have enhanced use of clean energy instead of oil and coal.
The supply of wood pellets in Viet Nam has also been limited despite the demand. An importer often orders between 3,000 tonnes and 5,000 tonnes a month, while a local factory on an average could provide just 300 tonnes to 500 tonnes.
The reason for the limited supply is because furniture businesses have scaled down their production of wood pellets – a substandard product that has become less.
Another reason was that wood pellet plants were small scale and found it hard to meet the high quantity of exports.
Le Quoc Phuong, deputy director of Trade Information Centre under the Ministry of Industry and Trade, said that the import demand for these products from the Middle East was relatively high. However, the ministry did not have adequate statistics from its export turnover as they are new products.
"We often have statistics of key export products with high value that could affect the import-export balance. However, potential products should be encouraged due to their high effectiveness, especially in niche markets," Phuong added.