Japanese-invested Nidec Vietnam is expanding its operations with a US$23 million extension of its computer parts manufacturing operations in Ho Chi Minh City.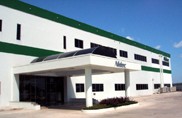 Nidec Vietnam Corporation headquarters in the Saigon Hi-Tech Park
Nidec Vietnam Corporation General Director Tsuchida Kunio said Monday that construction of the second phase of the expansion has begun.
Viet Long Construction Company and Kinden Vietnam Company are building a 2,700 square meter extension of its factory, scheduled to come into operation in December 2009 and employ 4,000 local workers. A 2,300 square meter plant has already been built.
Nidec Tosok Vietnam first invested in the Saigon Hi-Tech Park in District 9 in May 2005, spending $27.5 million on factories which employed 3,500 local workers.
Nidec's two factories in that zone, Nidec Vietnam and Nidec Sankyo Vietnam, specialize in manufacturing motors for computers and digital devices.
Nidec is the world's leading producer of hard disk drives, optical disk drives and DC motors.