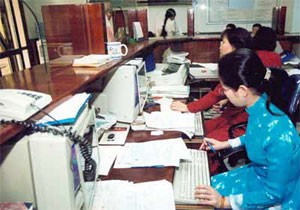 At a commercial bank
The State Bank of Viet Nam announced several interest rates for VND today. Accordingly, basic interest rate is 8.25 percent per annum, the re-capitalization rate for credit institutions is 6.5 percent per annum; and the discount rate for them is 4.5 percent per annum.
There are no changes in these rates from last month and this stability has remained for one year.
According to the State Bank, the interest rates on the VND at inter-bank market rose by 0.03 - 0.17 percent in October. However, the basis interest rate on the VND still stays the same.
Meanwhile, the inter-bank exchange rate of VND/USD has slightly risen by VND16,047 against the US dollar, a VND31 increase from the end of September.
This has been the highest rate so far. The exchange rate of VND/USD of commercial banks has reached VND16,090, while the exchange rate on the market is up to VND16,100.
Thus, the inter-bank exchange rate of VND/USD has increased by 1.1 percent, meeting target of increasing about 1 percent of the State Bank's exchange rate management policy in 2006.