The Government has suspended loans for fishermen in the national deep-sea fishing program, but not the program itself, said Fisheries Minister Ta Quang Ngoc.    
In the program, launched in 1997, the Government has provided loans for fishermen nationwide to upgrade offshore fishing boats and build new deep-sea fishing boats. Prime Minister Phan Van Khai has ordered the loan scheme to be put on hold due to its ineffectiveness and suspected wrongdoings.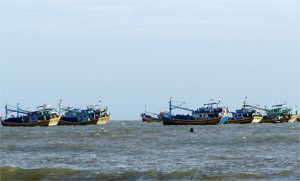 Fishing boats offshore Long Hai District in the southern province of Ba Ria-Vung Tau (Photo: Tuong Thuy)
The Ministry of Fisheries is working with relevant agencies to support provincial governments deal with the wrongdoings, Mr. Ngoc told Sai Gon Giai Phong.
"We'll take back the loans when the wrongdoings are proven. Early this year, we assigned ministry inspectors to check out the books at Design and Consulting Company when it was reported that almost VND900 million was spent on design fee [for deep-sea fishing boats]. The inspectors will prepare a report by late March 2006," he said.  
Mr. Ngoc added that the Prime Minister has approved a master plan to develop the fisheries industry until 2010 with development directions for 2020. "Under the master plan, we are working out a new deep-sea fishing program and expect to submit it to the Government in the third quarter this year."
The master plan is designed for the protection of fisheries resources, and no more new fishing boats to be built, he said. The Fisheries Ministry is also asked to reduce the current number of 9,000 fishing boats now down to 5,000 in 2010, provided they are fully equipped to be capable of ocean fishing.
To ensure effective lending in the new program, market economy rules must be observed in providing loans, the minister said.
"The State would not focus on supplying soft loans and should provide other assistance forms such as investments in infrastructure."
Mr. Ngoc added his ministry would draw lessons from the ineffective existing program to work out the new program with specific goals. All economic sectors will be encouraged to take part in the new program.
The Government launched the deep-sea fishing program in 1997 in 29 cities and provinces, and more than VND1,340 billion has been lent so far. Government inspectors found that since October 2004, about VND900 billion have been loaned and almost 1,000 deep-sea fishing boats have been built, including ones upgraded from off-shore fishing boats. Of the total, 520 boats have operated ineffectively and 250 ones never launched.
The inspectors also discovered scandalous misuse of VND110 billion of the loans, including misappropriation and corruption of VND12 billion. Just about one-tenth of debts have been paid for the past seven years.