Timber suppliers in North America are taking more interest in the Vietnamese market for its rapid growth in the wooden product manufacturing sector.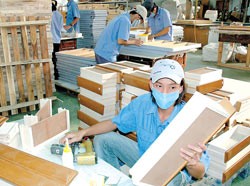 Savimex Joint-Stock Co. produces student desks and chairs for export to Japan.
Lots of timber suppliers in Canada and the US are showing keen interest in the Vietnamese market, said Mr. André Montigny, representative of Peladeau Company, a high-quality timber supplier.
He added that Viet Nam uses only 10% of high-quality timber imported from the North America for its production while it is 20%-30% in China.
Using less high-quality timber in production will limit the competitiveness of Vietnamese wooden products in the North American market.
Many timber supplying enterprises from Canada have set up their representative offices in Viet Nam, aiming to facilitate business between Vietnamese enterprises and Canadian partners, said Mr. Montigny.
According to the Agriculture and Rural Development Ministry's statistics, the wooden product export revenue of Vietnamese enterprises has reached US$500 million since early this year, an increase of 10% year-on-year. It might exceed US$2 billion by end of this year.